1290 Infinity Binary LC System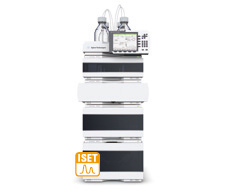 1290 Infinity Binary LC System
Product Description
1290 Infinity Binary LC System
Intelligent System Emulation Technology (ISET) provides seamless transfer of methods between LCs, regardless of the brand, delivering unchanged retention time and peak resolution.
Infinite power range that combines ultra high pressure up to 1200 bar and high flow rates up to 5 mL/min for maximum chromatographic performance, compatibility, flexibility and investment protection.
The 1290 Infinity Binary Pump combines active damping with lowest delay volume down to <10 L
Optical design in 1290 Infinity Diode Array Detector including Agilent Max-Light cartridge flow cell offers a new level of UV-sensitivity and baseline robustness, including fast spectral acquisition at data rates up to 160 Hz.
Ultra sensitivity is achieved through revolutionary Agilent Max-Light cartridge cell with 60 mm optical path length (typical noise: < 0.6 AU/cm) providing more than 10 times higher sensitivity than the 1200 Series DAD and VWD.
Expand your UV-detection capabilities with the 30x wider linear UV-range offered by the new HDR-DAD solution - making it ideal for analysis of mixtures with widely different concentration levels.
Next generation flow-through design of the 1290 Infinity Autosampler achieves lowest carry over (<0.004%)
1290 Infinity Flexible Cube combined with the 1290 Infinity Autosampler to facilitate automatic backflushing of needle seat for a new benchmark in lowest carry over (typically <0.0010%, <10 ppm)
1290 Infinity LC Injector HTC/HTS is designed specifically to meet the throughput and reliability demands of critical LC/MS applications, offering lowest carryover with dynamic load and wash (DLW) principle.
Pull-out valve drive and user-exchangeable valve heads in the 1290 Infinity Thermostatted Column Compartment boosts usability and paves the way for ultra high-throughput, multi-methord and automated method development solutions.
Trade Information
5-10 piece Per Month

6-8 Week