Antaris Ii Ft-Nir Analyzer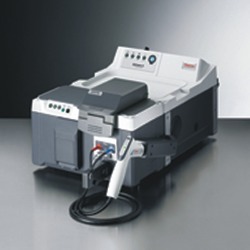 Antaris Ii Ft-Nir Analyzer
Product Description
Easily implement laboratory-based FT-NIR performance in a ready-for-plant package using the Thermo Scientific Antaris II FT-NIR Analyzer. With industry-leading method transfer performance, the Antaris II FT-NIR Analyzer provides robust and reliable data collection for at-line, online and in-line analysis. You can customize an Antaris II FT-NIR Analyzer for specific applications or choose the Antaris II MDS Method Development Sampling System, which includes transmission, fiber-optic and integrating sphere diffuse reflection analysis all in one turnkey system.
Description
The Antaris II FT-NIR Analyzer Allows You To:
Analyze any sample type rapidly and accurately
Make regulatory compliance (DQ, IQ, OQ and PQ) easy with the Thermo Scientific ValPro Instrument Qualification Package
Reproduce results regardless of configuration, maintenance, user or environment
Achieve fast, precise and accurate measurements in the lab or in the plant
Ordering Information:
The Antaris II FT-NIR Analyzer is sold as a configured system designed to meet your specific needs. For more information, contact your Thermo Scientific Sales Representative.
Recommended for:
Solids
Powders
Grains
Tablets
Paste
Gel
Syrup
Films
Liquids
Trade Information
5-10 piece Per Month

6-8 Week