Automatic Hydraulic Press 40 Ton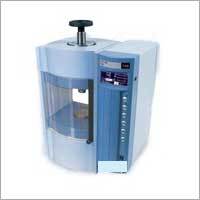 Automatic Hydraulic Press 40 Ton
Product Description
Automatic Hydraulic Press is a 40 Ton load bench-top press with fully

programmable

, microprocessor-controlled, power-assisted hydraulics for ease-of-use and repeatability. With a

small footprint

, ergonomic design, and low noise characteristic, this hydraulic press is appropriate for a range of applications in both modern laboratories and heavy industrial environments.
These hydraulic presses are fully compatible with Specac Pellet Die assemblies and other Specac Sample Preparation accessories, which makes them ideally suited for
XRF pelletizing applications in atomic spectroscopy.
Features and Benefits
Programmable microprocessor

controlled

pressure application and release

Simple user

operation procedures

via symbols and prompts

Maintain load applied from automatic "top up"

Graphics display with

LED backlight

control

End of cycle

alarm

or indication

Integral high

clarity

PETG

safety guards

Fully compatible with Specac

sample preparation

accessories