AUTOMATIC POTENTIAL TITRATOR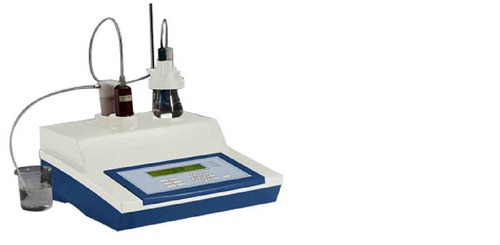 AUTOMATIC POTENTIAL TITRATOR
Product Description
We have a distinct recognition in the marketplace as a supplier and exporter of Automatic Potential Titrator. These devices are largely used in industrial and medical labs to make acid & alkali titration, non-water titration, oxidation-reduction titration, precipitation titration and complex titration. Sourced from some of the authentic vendors of the market, our Automatic Potential Titrator is made from top quality materials and cutting edge technology. We can also offer these titrators to the clients at a reasonable price.
Features:
Microprocessor based system
Simple to use
Portable design
FEATURES
- Special titration mode with the function of pre-titration, pre-setting terminal titration, empty terminal titration or manual titration.
- As well as pH measurement.
- Electricity cutting off protection.
- With RS-232 interface printers can be connected.
- The computer communicating software is provided with the meter,titrating tension,one step and two steps derivative and graphs contrast analysis are instantly displayed on computer.Titration mode can be compiled and revised.The meter can be remote controlled.The results of the measurement can also be counted up.
- Titration system made of perchloric acid resistant materials to make nonaqueous titration possible.
Specifications
Measurement range

Accuracy of the electric unit

pH

0.00~14.00 pH

pH

+/-0.01pH+/-1 digit

mV

-1,800~1,800mV

mV

+/-0.03%(FS) +/- 1bit

Temp.

-5~105deg.C

Temp.

+/-0.3+/- 1bit

Resolution

Titration tube capacity error

10ml tube: +/-0.025ml

pH

0.01pH

20ml tube:+/-0.035ml

mV

1mV

Capacity analysis reproducibility

0.2

Temp.

0.1deg.C

Stability

+/-0.3mV +/- 1bit/3h

Input impedance

3 x 1012ohm

Control titration sensitivity

+/-2mV
Trade Information
5-10 piece Per Month

6-8 Week