BOD Analysis - BOD EVO Sensor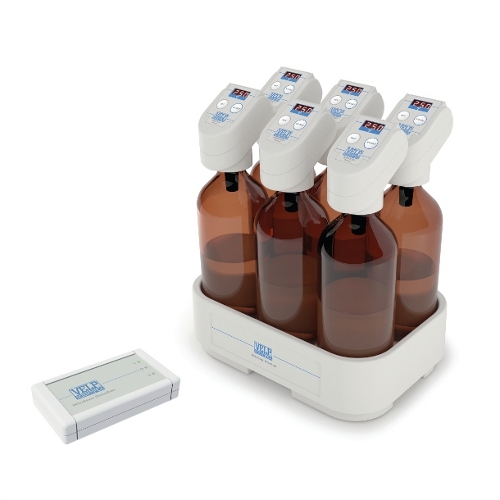 BOD Analysis - BOD EVO Sensor
Product Description
The most convenient way to get reliable results automatically for BOD analysis. Data management and reporting become incredibly intuitive with the wireless data transmission to the exclusive BODSoft.
Remote Operation
Unique and revolutionary wireless sensor transmits data
Wireless DataBox records transmitted data
Dedicated BODSoft software processes the data
Up to 80 sensors can be monitored simultaneously
Precise Control
Measurement on scales of 90, 250, 600 and 999 ppm BOD
Higher values can be measured by diluting the sample
Models with stirring stations offer VELP stirring quality
Extremely Practical
Fits directly on the bottle containing the sample
Customizable intervals, automatic storage of the data
Enables analysis to continue over the weekend
Results directly readable at any time, even after five days
Direct readout in mg/l (ppm) and graph creation on PC
Compact stirring stations
Priority to Safety
IP 54 protection against particle and liquid ingress
Class 3 IEC 1010 conformity
Complete Package
BOD EVO Sensor System 6, a complete package for 6 tests
6-position stirring station, 6 BOD EVO Sensors, dark glass bottles, alkali holders & stirring bars.
Stirring stations are designed for simple handling, ensuring the stirring quality.
Up to 5 stirring stations with 6 positions (30 samples) can be placed in a incubator

GENERAL FEATURES


Construction material:
technopolymer
Power:
2 W
Power supply:
115 V or 230 V / 50-60 Hz
Dimensions (WxHxD):
270x300x185 mm (10.6x11.8x7.3 in)
Weight:
2.3 Kg (5.1 lb)




PERFORMANCE


Reading value
mg/l (ppm) directly on PC (or on the display)
Measurement by electronic pressure probe
Bottle total capacity:
500 ml
Data storage for BOD5:
every 30 min / 1 / 2 / 4 / 6 / 8 / 12 / 24 hours
Data storage for longer test:
every 2 / 4 / 6 / 8 / 12 / 24 hours
BOD values:
automatic data calculation and management from BODSoft
BODlast determination:
possible
Scales:
90, 250, 600, 999 ppm BOD. Higher values after dilution
Display:
digits 3 LED
Safety class:
3 IEC 1010
Electronic protection degree CEI EN 60529:
IP 54
Trade Information
5-10 piece Per Month

6-8 Week