CHLORINATION TEST KIT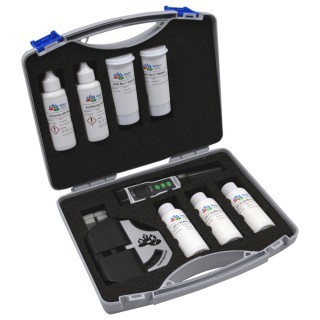 CHLORINATION TEST KIT
Product Description
KEY FEATURES
Ideal for mobile treatment engineers.
Compact & portable design.
Easy to follow waterproof instructions.
Clear product labelling.
Available in tablet or solution test kit.
Key test parameters included;

Chlorine HR (10 -300ppm),
Chlorine LR (0 4ppm),
pH (0.00 14.00 pH).
Note: Range is dependent on measuring instrument used.
CHLORINE DISINFECTION
Chlorination is the process of adding chlorine to water as a method of sanitizing and purifying it to prevent the spread of infection and disease. Chlorinated water systems require careful monitoring to ensure the correct conditions are achieved and maintained whilst operational and during the disinfections process.
Failure to achieve the correct chlorination levels in disinfections or sanitizing can lead to unsuccessful disinfections and conversely elevated levels can lead to potentially corrosive conditions.
COMPREHENSIVE KIT
The DTK Chlorination test kit has been developed specifically for engineers and treatment professionals responsible for the chlorination and disinfections of water systems. The kit is available in two options; tablets or solutions. This Chlorination kit has been designed to measure low and high levels of chlorine from 0.1ppm to 300ppm using two different test chemistrys.
Applications for this kit include;
L8 Infection Control.
BS6700 Chlorination.
Increased biological activity.

The kit provides convenience, accuracy and speed, utilizing tablet and liquid reagents with a comparator. The reagents and equipment are specified below.
The NACCRK004L is supplied in a robust carry case with reagents and instruments secured by a high quality chemical resistant foam insert with sufficient chemical reagents to carry out between 100 and 200 tests.
Trade Information
5-10 piece Per Month

6-8 Week