DPTE Alpha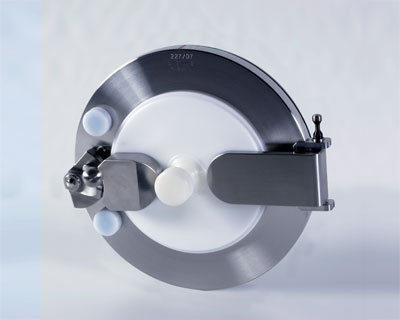 DPTE Alpha
Product Description
The DPTE Alpha part is the core of the system with its secure interlock, enabling totally safe connections and disconnections. Surfaces are easy to clean and decontaminate. The hinged door is easy to open/close and can be removed without any tools. In most configurations, the Alpha part is intended to be fixed to a rigid wall, with connection provided by rotating the Beta part. When the device equipped with the Beta part is too large or too heavy to be rotated, the Alpha part provides the rotation, and is then mounted on a flexible membrane for easy connection to the Beta part (generally mounted on the bottom or top of the barrier system).
The originator and manufacturer of the DPTE system
Worldwide customer references
Market leader in transfer port solutions and accessories
The DPTE system provides the highest bi-directional containment without intermediate bio-decontamination.

Technical feature
In this configuration, 105 and 190 mm diameters are available as a standard.

Accessories
With a view to optimizing the use of our DPTE transfer system and containers, we design and develop accessories for ease of use while preserving or improving operational safety:
Trolleys
Both transport and docking trolleys for the DPTE containers are available.
Baskets
Getinge has a range of stainless steel baskets for transferring filling pump needles, plugs, petri disches, etc.
Protection covers
Protection covers and closures for polyethylene containers.
Pressure covers
Protection or pressure covers for seals on autoclavable containers.
Protection of DPTE seals
Protection of DPTE seals for solid transfer (e.g. podwer) by polyethylene or stainless steel systems.
Trade Information
5-10 piece Per Month

6-8 Week