ELECTRONIC MICRO BALANCE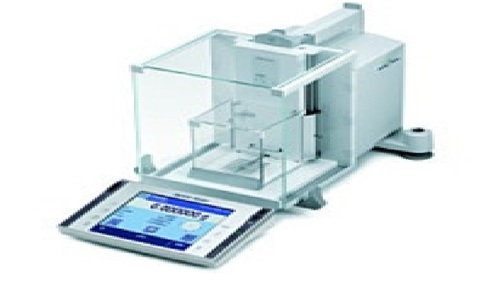 ELECTRONIC MICRO BALANCE
Product Description
We are one among the most trusted suppliers, engaged in offering a huge range of Electronic Micro Balance. These are designed for weighing the smallest samples with high resolution. In order to manufacture high quality Electronic Micro Balance, our vendors employ advanced machines and utilize quality tested materials. We adhere to the parameters of the national and international quality standards to provide the clients with utmost satisfaction in terms of quality.
Features:
User friendly design
Precise weighing
Compact structure
Model XP26
Part Code : 11106048
Readability : 1g
Capacity : 22g
Features and Benefits
World-leading weighing performance: Our microbalances have the highest resolution of any micro balance in existence: up to an
unmatched 52 million resolution points.
Unmatched user friendliness: The touchscreen display makes operation fast and easy. Up to eight personalized operator settings can be
configured, saved and retrieved.
Regulatory compliance: A set of built-in QM tools guarantees comprehensive data security and documentation.
SmartSens: Place the sample on the weighing pan without touching the balance. Hands-off weighing is quicker and more convenient.
SmartGrid: this revolutionary grid weighing pan minimizes the effects of turbulence in the weighing chamber - for faster results.
Level Control: warns with an acoustic signal if the balance is not leveled correctly and shows you in the display how to level
it properly.
Option slot for second interface, choice of 7 different interfaces, included Bluetooth and Ethernet
Connectivity: pace-setting interfacing flexibility - including Ethernet, Bluetooth (wireless) and PS/2 - for efficient data capture and easy
network integration.
ErgoClips: for secure sample placement and to avoid electrostatic charges because of "Faraday effect"
Min Weigh Door: allows dosing through a small window, directly into the tare container without opening the draft shield. For less turbulence in the weighing chamber, therefore stable results in not time and further reduction of the minimum weight.
Integrable antistatic kit (option): discharges static samples instantly without any risk of contamination
Detachable and adjustable terminal
Specifications - XP26 Micro-balance
Maximum Capacity 22 g
Readability 1 g
Minimum weigh (typical acc. USP) 2.1 mg
Minimum weigh (typical, U=1%, sd=2) 0.14 mg
Repeatability 1.5 g
Linearity 6g
Settling time (typical) 3.5s
Adjustment with internal weights proFACT, fully automatic time- and temperature-controlled adjustment
Adjustment with external weights custom weight
Sensitivity offset 4x10-6Rnt
Sensitivity temperature drift 1x10-6/oC Rnt
Sensitivity stability 1x10-6/ Rnt
Interfaces RS-232C, Bluetooth, Ethernet, PS2, LocalCAN
Size of weighing pan 40x40 mm
Free height above weighing pan 111 mm
Dimensions 263x487x322 mm
Trade Information
5-10 piece Per Month

6-8 Week