ep Dualfilter T.I.P.S.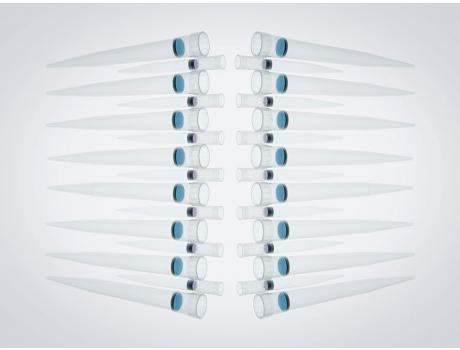 ep Dualfilter T.I.P.S.
Product Description
ep Dualfilter T.I.P.S. Filter Tips - The ultimate protection of pipette and sample against unintentional and unnoticed contamination by aerosols, drops and splashes
Product Information
ep Dualfilter T.I.P.S. filter tips are the first filter tips with a two-phase filter for contamination protection. The two filter layers made of flexible, hydrophobic material, fit perfectly in the tip cone and retain practically 100 % of all aerosols1) and biomolecules. This unique filtering effect is achieved using various, well-defined pore sizes. The layer facing the sample provides protection from drops, splashes and aerosols. The layer facing the pipette cone functions as a second barrier from contamination, and dependably binds biomolecules. A defined air passage rate guarantees full sample recovery and the customary quick pipetting.

1) An aerosol is a colloid of fine solid particles or liquid droplets, in air or another gas.

Scientifically Proven - No filter protects better than ep Dualfilter T.I.P.S.!
Filter tips from various manufacturers were tested in a blind trial at the Fraunhofer Institute for Toxicology and Experimental Medicine (ITEM) in Hanover, Germany. Testing focused on the prevention of pipette cone contamination by aerosols. Filter effect with regard to salt aerosols and biomolecules (DNA fragments) was examined. Quantitative determination of DNA fragments was performed using real-time PCR.

The results indicate that ep Dualfilter T.I.P.S. are much better at protecting against aerosols than other commercially available filter tips. With regard to particle permeability (0.13 % +/- 0.11 %), ep Dualfilter T.I.P.S. are 55 to 677 times more effective than the filter tips tested from other manufacturers. ep Dualfilter T.I.P.S. were 21 to 600 times more effective when protection against DNA fragments was examined (0.02 % +/- 0.01 %). The worst measured results were for particle permeability 88.00 % +/- 7.00 % and for DNA permeability 12.00 % +/- 5.20 %. All filters of Eppendorf ep Dualfilter T.I.P.S., ep Dualfilter T.I.P.S. LoRetention and ep Dualfilter T.I.P.S. SealMax, are made of the same Polyethylene (PE) and have comparable pore size structure.

For efficiency testing of filter tips no standardized test method exists. Thus a further study with ep Dualfilter T.I.P.S. SealMax was done based on the standard

Features
Two filter layers provide dual protection
Dual protection against aerosols1) and biomolecules
Dual protection for pipette and sample
Free of PCR inhibitor additives
Available in Eppendorf PCR clean/Sterile (sterile and pyrogen-free)
Tested at the Fraunhofer Institute for Toxicology and Experimental Medicine (ITEM) in Hannover, Germany
Continuous inspection of each production lot by an independent laboratory
Applications

DNA applications (e.g. PCR)
RNA applications (e.g. Gene expression analysis)
Protein applications (e.g. Antibody Research)
Cell Culture applications (e.g. Media)
Applications with radio actives
All applications which use aerosol1) binding liquids
Trade Information
5-10 piece Per Month

6-8 Week