Falling Ball Viscometer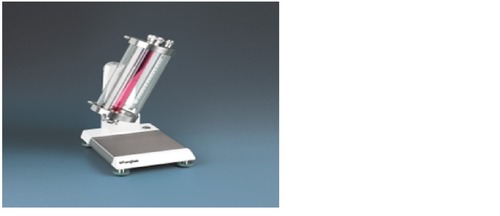 Falling Ball Viscometer
Product Description
Banking on our decades of industrial experiences, we are trading and exporting a superior range of Falling Ball Viscometer. These devices are used to measure the viscosity of Newtonian liquid & gases by measuring the time required for a ball to fall under gravity. Our Falling Ball Viscometer is made at our vendor's modern machining facility using top quality of materials. We lay prime emphasis on the packaging of these devices to ensure safe delivery at clients end.
Features:
Durable design
Easy to operate
Minimal test time
VISCO BALL


Main features
For applications in research, processing and quality control departments. Complies with DIN 53015 and ISO 12058 standards, accepted as an official reference instrument. Provides unsurpassed accuracy when backed up by FUNGILAB' s precise temperature control.

Technical data

Measuring Principle
the falling-ball viscometer VISCO BALL is based on the Hppler measurement system. It measures the time taken by a solid sphere to travel the reference distance through an inclined tube filled with the sample. A return constant may be established by turning the tube upside-down. The test results are given as dynamic viscosity in the internationally standardised absolute units of mill Pascal seconds ( mPa s) .
Main Features:
* High visibility of falling ball allows full accuracy
* Minimal test time
* Cost efficient resistance
* Minimal re-calibration needs through improved bearing support
* Technical data:
o Viscosity range 0.5 105 mPa s ( cP)
o Temperature range -20oC up to + 120
o
C
o Reproducibility Greater than 0.5%
o Comparability above 1%
o Materials: Balls 1, 2 and G are borosilicate glass
o Balls 3 and 4 are nickel iron alloy
o Balls 5 and 6 are stainless steel
Supplied with 6 balls, control thermometer ( -1 to + 26
o
C) , cleaning tools, calibration sheet and instruction manual.
Applications:
* Mineral oil industry ( oils, liquid hydrocarbons, ...) .
* Food industry ( sugar solution, honey, beer, milk, gelatine, fruit juice, ...) .
* hemical industry ( polymer solutions, solvents, resin solutions, latex dispersions, adhesive solutions, ...) .
* Cosmetic/ Pharmaceutical industry ( raw materials, glycerine, emulsions, suspensions, solutions, extracts, ...)
* Petroleum industry ( light crude, machine oil, crude petroleum, )
* Fuels ( petrol, diesel oil, paraffin, ) .
* Paper industry ( emulsions, pigment dispersion, paper additives, ) .
* Paints and varnishes ( printing inks, varnishes, water lacquers, inks, ) .
* Detergents ( liquid washing agents, washing-up liquids, tenside solutions, )
Ball Viscosity range ( mPa s)
1 0.6 to 10
2 7 a 30
3 30 to 700
4 200 to 4, 800
5 1, 500 to 45, 000
6 > 7, 500
Trade Information
5-10 piece Per Month

6-8 Week