Fineness of Grind Gauges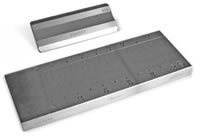 Fineness of Grind Gauges
Product Description
Fineness of Grind Gauges

Features

High accuracy machining, 175 x 63 x 12 mm.
Standard delivery: blade scraper, leather carry case.
The grinding quality of solid materials in coatings, pigment, ink, pharmaceutical or food formulation is essential for optimal dispersion.
Sheen high precision gauges are made of hardened stainless steel, for long term durability and reliability. They are available as single or 2 channel version, engraved with 2 scales: 0-25, 0-50 or 0-100 m and respectively 8-6, 8-4 or 8-0 Hegman units.
The test consists of placing a small volume of product on the deep end and drawing it with a straight scraper toward the shallow end. The position on the scale where oversize particles and their tracks appear can be rated for determination of dispersion.
Trade Information
5-10 piece Per Month

6-8 Week