MULTI-GAS EMISSIONS ANALYSER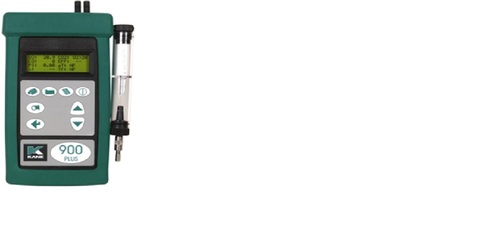 MULTI-GAS EMISSIONS ANALYSER
Product Description
MULTI-GAS EMISSIONS ANALYSER

The Kane 900 Plus handheld multi-gas emissions analyser is easy to use for domestic and industrial boiler flue gas measurement and analysis. It operates on all boiler types and can display 8 parameters simultaneously showing measurements and calculations of boiler efficiency and pollution.
The Kane 900 Plus measures O2, flue and nett temperature and calculates CO2, boiler efficiency, excess air and losses. CO is measured with a hydrogen compensated sensor for increased accuracy. It also measures CO and calculates CO/CO2 ratio - 'The Poison Index' - to give complete readings for effective boiler analysis and safety.
The Kane 900 Plus measures NO and calculates NOx. Optionally, it can also measure either NO2 or SO2 and can be fitted with CO and NO sensors with different measuring ranges. These options can be fitted at time of purchase or when returned to an authorised Kane service centre at a later date.
An optional pressure sensor can be fitted to measure flue draught.
The Kane 900 Plus has a memory to store up to 150 readings and can transfer data to a printer or PC. The printout displays the time and date of each measurement as well as personalised information such as company name and telephone number.
The Kane 900 Plus is supplied with a flue gas probe, protective rubber sleeve, battery charger, operators manual and carry case.
Features
Big character display
IR printer link - printed header can be customised
Large memory to store results for easy transfer to PC
Long life battery recharged in situ
Options
High range CO sensor instead of standard CO sensor
Low range NO sensor in place of standard NO sensor
NO2 sensor in place of any other toxic gas sensor
SO2 sensor in place of any other toxic gas sensor
Measures:
Oxygen to 21%
Carbon Monoxide (CO) to 10,000ppm with hydrogen compensated sensor (alternatively CO to 100,000ppm with high range sensor)
Nitric Oxide (NO) to 5000ppm with calculated NOx (alternatively NO to 100ppm with better low range accuracy)
Sulphur Dioxide (SO2) to 5000ppm (Alternatively any toxic sensor can be replaced with a 1000ppm Nitrogen Dioxide (NO2) sensor)
Inlet Temperature
Flue Gas Temperature
Differential pressure
Optional Extras
KMIRP infra-red thermal paper printer
KANE IMPrint infra-red plain paper printer
NO & NOx Sensor Module
SO2 Sensor Module
Trade Information
5-10 piece Per Month

6-8 Week