NAC-43220 Digital Torque Tester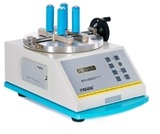 NAC-43220 Digital Torque Tester
Product Description
NAC-43220
Digital Torque Tester
Digital torque tester designed for evaluating the lock force and open force of bottle caps, flexible tube packages and spout bags. The open and lock forces are the key parameters that regulate the transportation and usage of products.
NAC-43220 digital torque tester has high stability and precision. The device features a large LCD display, a PVC operation panel and a micro-computer with menu interface. The design complies with different standards such as GB/T 17876, BB/T 0034, BB/T 0025, ASTM D3474, ASTM D3198 and ASTM D2063.
The NAC-43220 digital torque tester comes with two standard configurations: micro printer and mainframe. It is also available with optional components such as communication cable and professional software.
Key Features
The main features of the NAC-43220 digital torque tester include:
Micro printer and RS232 ports for convenient data transfer
Ability to retain peak value and record test results automatically
2 test modes for lock force and open force
Standard testing units for comparison of data
Overload protection and automatic zeroing functions for safe operations
Equipped with Lystem TM lab data sharing system for efficient data management
Applications
The major applications of the NAC-43220 digital torque tester include the following:
Vacuum cup and vacuum flasks
Screws
Flexible tube package
Bottle package
Standard Configuration includes:
Micro Printer
Trade Information
5-10 piece Per Month

6-8 Week