NICKEL CRUCIBLES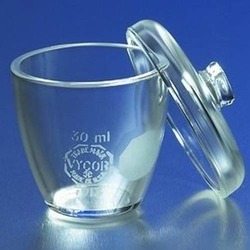 NICKEL CRUCIBLES
Product Description
We have been able to attract a large number of clients all over the world with our qualitative range of Nickel Crucibles. These cubicles are made from 99.6% nickel content at our vendor's state of the art machining facility. Highly resistant to alkalis and most acids, our Nickel Crucibles are largely used in electronic and aerospace industries. It is made available to clients in various sizes and capacities so that customers' utmost satisfaction can be duly obtained.
Features:
Crack resistant
Bright finish
Durable design
Further Details:

Product Code: 1
Description
Laboratory Nickel Crucible, nickel 201 spec (minimum 99.6% nickel content), bright finish.
Dimensions - guide

A = 25mm (reference dimension only).


B = 20mm.


Nominal wall thickness 0.5mm.

Supplied in standard packs of 10.
Heating/Cooling Information
Working temperature range up to 350oC will ensure crucible has a long working life.
Temperature range 350oC - 600oC will shorten the working life of the crucible due to xidisation.
Temperature range 600oC - 800oC will show increased levels of oxidisation on the crucible and dramatically reduce its life.
Temperature range 800oC + will lead to severe oxidisation.
Trade Information
5-10 piece Per Month

6-8 Week