OIL BATH CIRCULATOR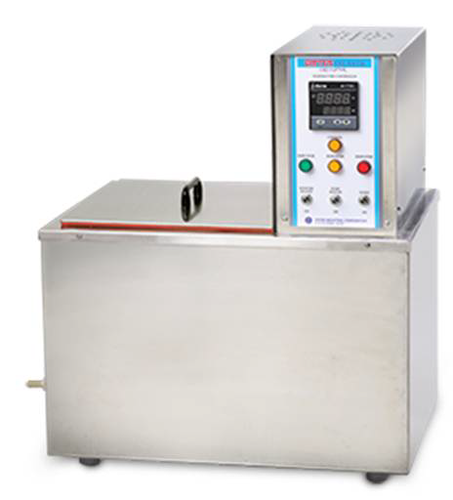 OIL BATH CIRCULATOR
Product Description
Regular GMP - Model
Double walled in construction Inner made of SS 304 and
Exterior GI Powder coated in REGULAR MODEL.
Inner made of SS 316/SS 304 & Exterior SS 304 Matt/Buff
finish in GMP MODEL.
The Inner tank is completely welded for leak proof durability.
The high grade compressed cerawool & combination of glasswool insulation provided
in between the wall to minimize the heat loss.
The Temp. is being controlled by Automatic Autotuning Microprocessor based PID
Temp. Controller with Dual Digital Indicator and PT-100 sensor.
The unit consist with Pump cum Stirring Assembly for Internal as well as External
circulation & better Temp. uniformity. The External Head upto 5/6 feet only.
Pump Output :- 5/7 Ltr. Per Minute.
Specially designed Long Life Stainless Steel Heater.
A drainage cock is provided at side of the bath for outlet purpose.
CAT NO. BATH SIZE L x W x D RATING CAPACITY
NAC – 105 B 12" x 12" x 10" 4000 Watts 23 Ltrs.

Trade Information
5-10 piece Per Month

6-8 Week