OMNIS TITRATOR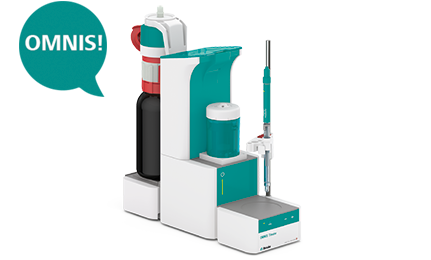 OMNIS TITRATOR
Product Description
OMNIS is Metrohms new, fully integrated titration system that caters to the needs of todays laboratories.
With OMNIS, we have gone beyond just creating a new titrator. We have put your requirements and your laboratory in the focus to develop a titration solution that simply offers more: faster results, more safety, more convenience, more efficiency in short: performance on a whole new level.
What is OMNIS?
FASTER!
Up to four analyses simultaneously

Get four times the output with OMNIS.

OMNIS is capable of performing four fully automated analyses at the same time. And when free capacities are identified, instead of being idle, the system continues with the subsequent analyses automatically!
SAFER!
3S safe, secure, smart

Make your lab safer with 3S adapter technology.

We have made chemical handling easier and safer. The result is our patented Liquid Adapter with 3S Technology. 3S stands for:

Safe chemical handling: Just snap the adapter onto the bottle cap and avoid contact with the bottle contents.
Secure information transfer: The RFID chip in the bottle cap provides all relevant information on the content on the bottle.
Smart connection: The reagent data is automatically transmitted to the titration system.
EASIER!
Truly intelligent software

Experience a software solution designed for the future: intuitive, easy-to-use, and intelligent. Graphical representations of hardware components, drag-&-drop functionality, and context-sensitive operation make your work in the lab as easy and efficient as possible.

User guidance tailored to the users: The OMNIS software is based on concepts, processes, and requirements of chemical laboratories. It thus offers an unparalleled user experience:

Visual status indicators
Alerts, system checks, and suggestions
Freedom in editing templates for methods, processes, commands, etc.
SMARTER!
Modular concept

Expand your system as you go. Start with a single OMNIS titrator and add titration and dosing modules when needed. By including additional measuring interfaces and burets, you can have up to five different applications ready for use even in parallel.

If sample throughput is increasing, add an OMNIS Sample Robot for fully automated titration. Thanks to modular work stations, racks, and pumps, OMNIS is capable of analyzing four samples in parallel.
MORE!
Space-saving and clever
Save bench space
Use your lab bench efficiently.
Build a global network
Control OMNIS from anywhere.
Green light means go
Trade Information
5-10 piece Per Month

6-8 Week