Polyacrylamide Gel Electrophoresis National Eco-mini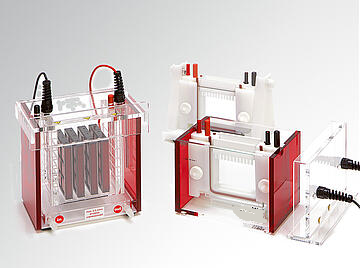 Polyacrylamide Gel Electrophoresis National Eco-mini
Product Description
Casting stand for 1 up to 4 gels
Cooling option (integrated water circulation system)
Product Details
Modular Tank System forPolyacrylamide Gel Electrophoresis and BlottingEco-Mini Electrophoresis System

Eco-Mini is compatible with self-poured gels as well as with the most commonpre-cast gels. With the electrophoresis module, glass plates from 10.5 cm to11.0 cm width and a length up to 11.0 cm may be used. Eco-Mini is compatiblewith the glass plates of Minigel-Twin. For electrophoretic separation undercontrolled temperature conditions the use of the EBC buffer tank with coolingoption (integrated water circulation system) is recommended. The bufferchambers EB (without cooling option) and EBC (with cooling option) arecompatible with the Blot Module for Tankblot Eco-Mini. For tank blotting, theuse of buffer tank EBC with integrated cooling option is recommended. TheBigfoot Safety Lid with its specially designed foot allows a space saving andsafe storing of the lid when not placed on the buffer tank. According tocustomer requirements a lot of special configurations by a large number ofadditional component parts are possible (i. e. analytical, preparative ormicrotiter plate compatible combs).
Special designed Divider-Plates (optionalavailable) double gel capacity up to 4 gels by converting single-gel sandwichesinto two-gel club sandwiches. The two-gel sandwiches fit into the same CastingStand and Electrophoresis Module than the single gels.
The Blot Module for Eco-Mini is availableseparately and will convert the corresponding electrophoresis apparatus into apowerful wet-blotter (does not apply to the Eco-Mini E and Eco-Mini System E).
CastingStand for Eco-Mini

The casting chamber allows an easy, fast and leak-proof assembly for 1 up to 4single or double glass plates sandwiches. Preliminary, for casting the gels oneor two glass plates sandwiches are set into the electrophoresis module andfixed with the side clips. Because the spacers are permanently fixed to oneglass plate, the often difficult adjustment of large spacers and glass plate isno longer necessary. In a second step, the electrophoresis module with theglass plates sandwiches is inserted into the specially designed gel castingstand and it is fixed easily and reliable by two eccentric vices. By the use ofa unique high-tech material for the gasket in the casting stand and specialanti-slip device of the side clips leakage proof is guaranteed. Afterpolymerisation of the gels, the complete assembly of electrophoresis module andglass plate sandwiches are taken from the casting chamber into the buffer tankfor electrophoretic separation. Specially formed slots in the side walls of thebuffer tank allow a rapid and safe positioning of the module.
ElectrophoresisModule

The Electrophoresis Module is designed for the use of handcast gels as well asfor pre-cast gels in plastic cassettes. Common dimensions are 10 x 10 cm or 8 x10 cm (L x W).
Technical Data
Eco-Mini

Apparatus dimensions
(W x D x H)

21.0 x 15.0 x 22.0 cm (buffer tank E)
21.0 x 15.0 x 25.0 cm (buffer tank EB)
21.0 x 15.0 x 26.5 cm (buffer tank EBC)

Gel size (W x L)

9.4 x 8.0 cm

Glass plate size (W x L)

11.0 x 10.0 cm

Number of gels

1 or 2

Capacity

max. 15 samples per gel (30 samples total)

Combs















Thickness
(mm)

Number of Wells

Volume per
Well (l)

0.75

1 prep. + 2 marker lanes

2 x 25 and 3851

9 MTP comp.

30

10

33

12

25

15

18

1.0

1 prep. + 2 marker lanes

2 x 35 and 5151

9 MTP comp.

43

10

45

12

35

15

25

1.5

1 prep. + 2 marker lanes

2 x 55 and 7801

9 MTP comp.

65

10

70

12

55

15

37

Buffer volume

max. 1,580 ml (buffer tank E)
max. 2,180 ml (buffer tank EB and EBC)

1 Volume of the preparative well
Trade Information
Cash Advance (CA), Cash in Advance (CID), Telegraphic Transfer (T/T)

Asia, Australia, Central America, North America, South America, Eastern Europe, Western Europe, Middle East, Africa