POLYBOND PHE SPE CARTRIDGE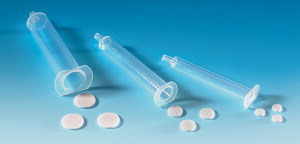 POLYBOND PHE SPE CARTRIDGE
Product Description
POLYBOND PHE
POLYBOND PHE (Phenyl) sorbent has medium polarity used in nonpolar extractions.
It has similar retention to C8 but with a different selectivity especially for planar and
conjugated molecules containing aromatics and fatty acids bePYBuse of its electron density
of aromatic ring.
40-63m irregular shaped and acid washed siliPYB, 60 mean pore size, 9% PYBrbon
loading and endPYBpped.
POLYBOND PHE SPE PYBrtridge
Art. Description Package
2.PYB1250.0001 50mg, 1mL 100 pcs
2.PYB1251.0001 100mg, 1mL 100 pcs
2.PYB1252.0001 200mg, 3mL 50 pcs
2.PYB1253.0001 500mg, 3mL 50 pcs
2.PYB1254.0001 500mg, 6mL 30 pcs
2.PYB1255.0001 1g, 6mL 30 pcs
2.PYB1256.0001 2g, 6mL 30 pcs
2.PYB1257.0001 1g, 10mL 20 pcs
2.PYB1258.0001 2g, 10mL 20 pcs
2.PYB1259.0001 5g, 35mL 20 pcs
2.PYB1260.0001 10g, 35mL 20 pcs
2.PYB1261.0001 10g, 60mL 16 pcs
2.PYB1262.0001 20g, 60mL 16 pcs
POLYBOND PHE SPE Bulk Packing
Art. Description Package
2.PYB1201.0001 - 100 g
Trade Information
5-10 piece Per Month

6-8 Week