Polymer Film Maker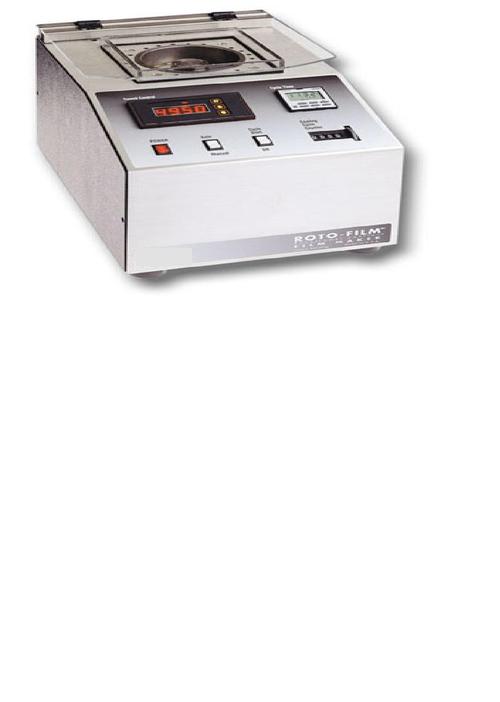 Polymer Film Maker
Product Description
Over the years, we have been able to dominate the industry by trading and supplying a superior range of Polymer Film Maker. These are made from best quality materials at our vendors state of the art machining facility, in-sync with the globally laid quality standards. Our Polymer Film Maker is used for making films of various materials including polymers, paint, resins, cellulose, varnish and glue. Our clients can avail these makers from us at a reasonable price.
Features:
User friendly design
Low maintenance
Modular design
Further Details

For making thin films from polymers that can be dissolved into solutions, the Roto-Film is an excellent alternative. Films are spin cast on a rapidly turning platen designed to hold standard aluminum weighing dishes, which are disposable. The edges of the weighing dish can be cut off to make a flat highly reflective surface that can be placed into a specular reflection accessory for analysis or the film can simply be peeled off the bottom of the weighing dish. Alternatively, films can be cast on a polished aluminum concave platen, on a Real Crystal IR Card or on a KBr window. For most polymers, the film is complete within 60 seconds. If the film is cast on a KBr window, the window is simply mounted in a spectrophotometer for analysis. Films cast on polished platens are removed simply by contacting tape with the edge of the film and then pulling the film off of the platen.
The Roto-Film produces films which are extraordinarily consistent from film to film. The accessory employs a programmable positive feedback micro-processor controlled motion controller and a programmable timer to precisely reproduce cycle time, rotation speed and ramp up and ramp down from run to run.
Films cast by rotational casting on KBr windows, Real Crystal IR Cards or which are analyzed by specular reflection are free of interference fringes. Rotational casting produces films with radial symmetry, which means that the film molecules radiate from a central point like spokes on a wheel rather than exhibiting the monodirectional orientation typical of extruded films. Extruded films will exhibit different absorbance peak intensities depending upon how the film is oriented when it is placed in a spectrophotometer, but radially symmetric films cast on the Roto-Film will exhibit the same peak intensities regardless of how the film is oriented when it is placed in the spectrophotometer. An anti-static block is recommended to aid in film removal.
| | |
| --- | --- |
| Part No. | Description |
| 43214-6031 | Roto-Film film maker with disposable film casting platens, crystal casting platen, digital microprocessor motion controller, programmable cycle timer, 110 v, 60Hz |
| 43214-6909 | Roto-Film for use in countries with 220v, 50 Hz power, same as above unit with CE marked transformer & country specific power cord & plug set |
| 43214-6272 | Flat platen, polished aluminum |
| 43214-6273 | Concave platen, polished aluminum |
| 43214-6274 | Crystal casting platen, holds 30x4mm KBr, KCl or other IR crystal |
| 43214-6276 | Microscope slide platen |
| 43214-7451 | Real Crystal IR Card platen |
| 43214-6275 | Static dissipation tool for film removal |
Trade Information
5-10 piece Per Month

6-8 Week