Precision Gold Karat Purity Tester TWD 300K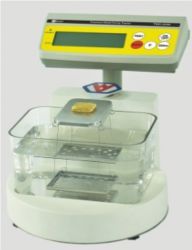 Precision Gold Karat Purity Tester TWD 300K
Product Description
Precision Gold Karat Purity Tester TWD 300K

Gold refining and recycling industry, Bank, Pawn shop, Gold and Precious Metal research lab.
Principle :
According to the buoyancy method of Archimedean principle, gold karat, density and purity% can be showed rapidly and accurately.
Specifications :
| | |
| --- | --- |
| | |
| | |
| | |
| | |
| | |
| | Gold, Platinum, Silver and other precious metals |
| | Gold: Karat, Density, Purity Platinum, silver and other precious metals: Density, Purity |
Advantages:
The body is produced integrally by using aluminum alloy, the structure is stable; the unstable screen problem caused by load cell measuring influenced by pressing the key and the damage problem caused by liquid penetrating into circuit board and sensor will not occur.
The measuring position and sensor are on the same platform, it can improve the defect of the measuring deviation caused by corner load.
The screen independent design is adopted and the screen is separated from the measuring platform, the problem of the screen damaged by liquid corrosion and adhesion will not occur.
Standard size of water tank: 150*100*90mm.
The maximum sample size can be tested: 100*70*35mm.
Key measuring points:
Put the sample on the sensor, pressMEMORYkey to get the in-air-weight.
Use the tweezers picking up the sample, and put it on the measuring tray in water gently press MEMORYkey to get the in-water-weight.
Only two weighing steps, the machine can show gold karat, density and purity directly.
Trade Information
5-10 piece Per Month

6-8 Week