Ti-Touch TITRATOR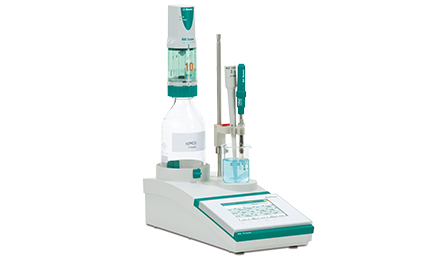 Ti-Touch TITRATOR
Product Description
Ti-Touch: compact potentiometric titrator
The 916 Ti-Touch is a potentiometric titrator for routine applications.
Designed as an easy-to-use and compact system, it is equipped with a variety of features to make your work more comfortable: color touch screen, shortcuts for favorite methods, a second port for an additional titration stand and buret, and many more.
Key features
Stand-alone titrator with all components integrated
Integration into LIMS without PC thanks to Ethernet interface
Precise and safe handling of chemicals thanks to Dosino technology
Optional automation for increased sample throughput
Small in size, big in performance
This compact, full-fledged titrator covers all your routine titrimetric needs and is capable of dynamic equivalence point titration (DET), monotonic equivalence point titration (MET), set endpoint titration (SET), and manual titration (MAT). As the buret, stirrer, and the Touch Control unit are all integrated into the instrument, this titrator takes up very little space.
The 916 Ti-Touch has a touch screen display for your convenience. In addition, you have the possibility to create shortcuts to start your favorite method with one button.
No PC? No problem
The 916 Ti-Touch doesnt need a PC, and you dont have to worry about data security and network integration.
Tamper-proof PDF reports can be created on the instrument and saved on a USB stick or directly transferred to your LIMS or intranet via Ethernet connection.
High level of connectivity: USB interface and MSB ports
If you wish to print data or connect a barcode reader, you can do so using the USB interface of the 916 Ti-Touch.
You can also increase your efficiency by connecting a second titration stand and buret to the two Metrohm Serial Bus (MSB) ports, for instance if you would like to perform a sequential titration of acidity and chloride.
High precision, high safety
The 916 Ti-Touch can be operated with Dosinos.
You can therefore rely on highly accurate dosing. Furthermore, thanks to this technology, contact with the reagent is eliminated during reagent exchange.
All-inclusive packages for your application
The 916 Ti-Touch is available in three packages for specific application areas:
Salt Ti-Touch for the argentometric titration of chloride
Oil Ti-Touch for the nonaqueous acid-base titration of oil products
Food Ti-Touch for the aqueous acid-base titration in foodstuffs
These packages include everything you need: the titrator, an appropriate intelligent electrode, a dosing device, a rod stirrer, the suitable methods, and a demo version of the tiBase software.
Trade Information
5-10 piece Per Month

6-8 Week