Titrando TITRATOR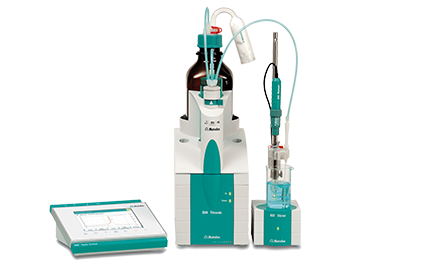 Titrando TITRATOR
Product Description
Titrando titrators have been developed to meet exacting titration demands. These titrators come with a wide range of security and traceability options, making them particularly suitable for use in regulated industries. Titrandos are capable of performing all common titration types and offer a host of automation and control options.
Key features
Full traceability (audit trail) and compliance (FDA 21 CFR Part 11, GLP, GMP)
Improved convenience through iTrodes, Dosino technology, and tiamo software
Additional dosing devices, stirrers, and measuring inputs for customized setups
Extensive automation options for increased sample throughput and sample preparation

Titrandos can be fully tailored to your specific requirements.

They can either be used as stand-alone titrators or integrated into an overarching network. Operation has been optimized for both scenarios: you can use a convenient Touch Control unit or the elaborate tiamo software to tap the full potential of your Titrando system

Titrando systems are used in conjunction with intelligent iTrode electrodes.

These electrodes contain a data chip with the relevant sensor data, such as article and serial number, calibration data, service life information, and validity of the calibration. When you connect the iTrode to the titrator, this data is read in. Thus, mix-ups or editing errors are excluded, and each analytical result can be traced back to the electrode used.

Like the iTrodes, the Exchange or Dosing Units that are used with Titrando systems are equipped with a data chip.

Important information is stored on this chip, e.g., type of reagent, titer, last titer determination, and expiry dates. Your Titrando uses this data to carry out the titration properly.

Let your titration system do the thinking for you: The titrator checks if this data is compatible with the method selected and notifies you if inconsistencies are found. As a result, titration errors are minimized.

When it comes to connectivity, the possibilities with a Titrando system are virtually endless.

Integrate your titration system into a LIMS via Ethernet connection and benefit from time savings achieved with a sample processor connected via USB. Furthermore, the USB interfaces can also be used for connecting printers, barcode readers, or other auxiliary devices.
Trade Information
5-10 piece Per Month

6-8 Week