210VGP Atomic Absorption Spectrophotometer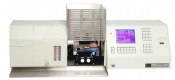 210VGP Atomic Absorption Spectrophotometer
Product Description
Standard Features
The 210/211 is shipped ready for use. All operating conditions are pre-loaded in the internal computer, including lamp settings, secondary wavelengths, and alternate methods of analysis for over 60 elements by flame, furnace, or hydride techniques. The three lamp turret has individual controls for alignment and standby mode to keep lamps warm. Direct report generation to a printer or data linking to the optional Buck Analyst software package is easily done using the parallel and RS-232 serial ports.

Analytical Performance
The Buck 210/211 is a high energy, microprocessor controlled single beam
atomic absorption spectrophotometer. Solid state electronics and simple optics provide the basis for our superior stability and sensitivity. The
Ebert mount monochromator and user-selectable bandwidth give the system maximum flexibility. Our short-path dynamic nebulizer/burner
configuration is highly efficient. An inert needle, precisely positioned in a
high flow venturi, delivers sample to the corrosion proof impact bead. This results in a tremendously high nebulization effect for all types of sample matrices.
Trade Information
5-10 piece Per Month

6-8 Week