Gamma Ray Sterilized 1ml Serological Pipettes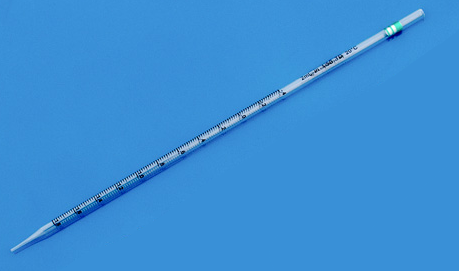 Gamma Ray Sterilized 1ml Serological Pipettes
Product Description
We are offering gamma ray sterilized 1ml serological pipettes that are constructed using the fine grade crystal polystyrene. This type of serological pipettes is completely sterilized by the application of gamma rays. Some other nomenclature of these products are plastic pipette and graduated glass pipette. These types of products are used for the measurement as well as dispensing of a liquid at a particular volume. This gamma ray sterilized 1ml serological pipettes have easy-to-read printing with reverse and negative graduations.
The 2ml serological pipette is made of crystal polystyrene.
Graduation is 1/100ml or 1/50ml with a green ring mark, and a difference of 2%.
Sterilized using gamma-rays.
It comes with an American Porex filter.
Available Packaging:
Cat.# NACS02-1 Single package with 300PCS/box, 6boxes/carton (3006/carton, total 1800PCS/carton)