ACQUITY UPLC COLUMN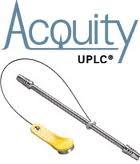 ACQUITY UPLC COLUMN
Product Description
ACQUITY UPLC Columns
Advancing Separation Science
In 2004, the chromatography industry was revolutionized by the introduction of Ultra-Performance Liquid Chromatography [UPLC Technology]. Significant advances in instrumentation and column design enabled scientists to achieve dramatic increases in speed, sensitivity and resolution for their analytical separations. Holistically-designed ACQUITY UPLC Systems and ACQUITY UPLC Columns allow chromatographers to harness the efficiency power of sub-2-um particles, thereby improving their business productivity and profitability.
The ACQUITY UPLC Column family continues to evolve and expand, including particles and stationary phases for both small molecules and biopharmaceuticals.
Particle Part No. Part No.
Dimensions Size Individual 3 pk
Column
BEH C18
1.0 x 50 mm 1.7 m 186002344 176000861
1.0 x 100 mm 1.7 m 186002346 176000862
1.0 x 150 mm 1.7 m 186002347 176001044
2.1 x 30 mm 1.7 m 186002349 176001304
2.1 x 50 mm 1.7 m 186002350 176000863
2.1 x 100 mm 1.7 m 186002352 176000864
2.1 x 150 mm 1.7 m 186002353 176001048
BEH Shield RP18
1.0 x 50 mm 1.7 m 186002851 176000874
1.0 x 100 mm 1.7 m 186002852 176000875
1.0 x 150 mm 1.7 m 186003373 176001045
2.1 x 30 mm 1.7 m 186003909 176001309
2.1 x 50 mm 1.7 m 186002853 176000876
2.1 x 100 mm 1.7 m 186002854 176000877
2.1 x 150 mm 1.7 m 186003376 176001049
BEH C8
1.0 x 50 mm 1.7 m 186002875 176000882
1.0 x 100 mm 1.7 m 186002876 176000883
1.0 x 150 mm 1.7 m 186003374 176001046
2.1 x 30 mm 1.7 m 186003910 176001310
2.1 x 50 mm 1.7 m 186002877 176000884
2.1 x 100 mm 1.7 m 186002878 176000885
2.1 x 150 mm 1.7 m 186003377 176001050
Trade Information
5-10 piece Per Month

6-8 Week