Antaris Igs Gas Analyzer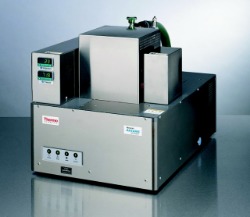 Antaris Igs Gas Analyzer
Product Description
Simultaneously analyze more than 100 gas species using the Thermo Scientific Antaris IGS Analyzer. Developed with input from industry market leaders to solve specific gas analysis needs, this multi-component gas system provides research-grade performance, speed and sensitivity in a package designed specifically for use in plant and process environments.
Description
The Antaris IGS Analyzer Features:
High performance in calibration and stability, as well as high-speed data acquisition
Industrial rack-mount and table-top configurations
Flexible gas cell configurations
Detector options
Factory-supplied calibrations and on-site calibration and training services
Thermo Scientific RESULT Software in the Antaris IGS provides easy-to-use tools for routine analysis, method development, method transfer, operation setup and data analysis.
Recommended for:
Bulk gas purity analysis
Specialty gas analysis
Combustion emissions monitoring
Air bag effluent analysis
Aviators breathing oxygen and compressed breathing air
Trade Information
5-10 piece Per Month

6-8 Week