Automated cage and bedding handling systems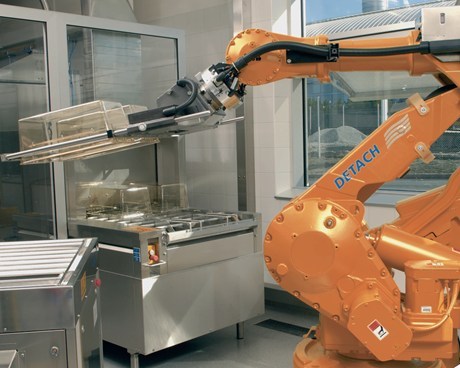 Automated cage and bedding handling systems
Product Description
Global agreement makes Getinge a complete solution provider for cage processing in bio-medical research, combining Detach AB's technology with Getinge's cleaning and decontamination systems.
The collaboration deals with a very specific part of biomedical research: emptying, decontamination / cleaning and refilling of cages. Cages must be cleaned regularly, a task that used to be carried out manually, thereby exposing staff to contaminants, allergens and possible infections in the cage bedding material. Detach was first in 1996 to introduce a fully automatic system for cage and bedding management. One or more industrial robots empty the cages and place them in a washer. After cleaning and decontamination, the robots refill the cages with bedding and place them in the designated location for collection. Experience so far has been excellent, e.g. reducing staff exposure to allergens by 99%. In addition to reduction of allergen exposure, the collaboration aims to provide safe, ergonomic and efficient systems.
Dedication:

DETACH specializes in bedding management, cage

washing and automation for the laboratory animal research market. All our focus is directed to this area.
Innovation:

Animal care takes place within a multifaceted, dynamic

environment where technical evolution is constant. An innovative and open minded approach is necessary as we face this evolution. DETACH takes pride in realizing new thoughts for improvement together with our clients.
Trade Information
5-10 piece Per Month

6-8 Week