Carbon / Sulfur Analyzer NACCS-2000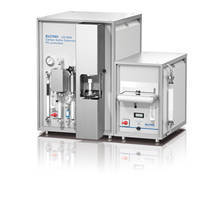 Carbon / Sulfur Analyzer NACCS-2000
Product Description
ELTRA's NACCS-2000 is the only analyzer on the market for the determination of carbon and sulfur in organic as well as inorganic samples. For this purpose, the NACCS-2000 is equipped with both an induction and a resistance furnace (ELTRA Dual Furnace Technology), covering the full range of carbon and sulfur analysis.

The NACCS-2000 is available with up to four independent infrared cells, which allow the precise and simultaneous analysis of high and low carbon and/or sulfur concentrations. The sensitivity of the cells can be customized individually by selecting the length of the IR-paths to ensure the optimum measuring range for each application.
Application Examples
alloys, ashes, carbides, cast iron, cement, ceramics, coal, coke, copper, glass, gypsum, iron, limestone, metals, minerals, oil, ores, plant materials, refractory metals, rubber, sand, soils, steel, titanium, tobacco, ... , ...
Product Advantages
full flexibility due to combined induction and resistance furnace: ELTRA Dual Furnace (EDF) Technology
analysis of organic and inorganic samples
due to ELTRA Dual Furnace (EDF) Technology: fractional analysis of carbon and sulfur
up to four independent infrared cells with flexible measuring ranges
due to gold IR path, increased cell live time for analysis of halogen or acid containig samples
automatic induction furnace cleaning
wide range of materials (organic and inorganic) can be analyzed
rapid, precise, accurate and reliable element determination
powerful (2.2 kW) induction furnace for temperatures above 2,000 C
temperature of resistance furnace adjustable up to 1,550 C in steps of 1 C
effective, easily accessible dust trap
single and multipoint calibration
simultaneous calibration of carbon and sulfur
low maintenance
robust design allows usage in production control and laboratory
simultaneous carbon and sulfur determination with minimal sample preparation
Trade Information
5-10 piece Per Month

6-8 Week