Germanium Golden Gate ATR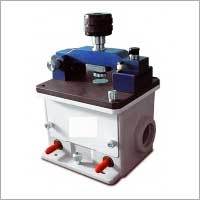 Germanium Golden Gate ATR
Product Description
Single reflection Ge ATR accessory
The Specac Germanium Golden Gate ATR is a single reflection germanium ATR accessory based around the traditional Golden Gate ATR optics unit.
This ATR accessory, with a high refractive index Ge crystal, is suitable for the FTIR ATR analysis of traditionally difficult samples that require controlled penetration of the infrared beam. The shallow depth of penetration of the Germanium Golden Gate ATR allows ATR analysis with no band distortion to overcome the often difficult quantitative analysis of strongly infrared absorbing materials.
Optimum sensitivity is achieved using a 4 by 4 mm germanium crystal cemented into a rugged stainless steel disk for maximum strength and support. Corrosive samples, thin films and surface coatings can also be analyzed.
The Germanium Cell Golden Gate ATR is a Benchmark baseplate compatible accessory.
Features and Benefits
45 single reflection Germanium crystal

Highest load for maximum sensitivity

Built-in load

limit

prevents crystal

damage

Excellent sample to crystal contact

Quick release

pressure bridge with

safety interlock

Working range 5000 to 550 cm-1
Trade Information
5-10 piece Per Month

6-8 Week