Heated Golden Gate ATR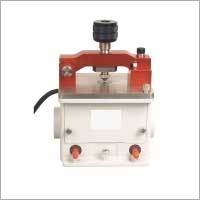 Heated Golden Gate ATR
Product Description
Single reflection diamond ATR accessory
Specacs Heated Golden Gate ATR Accessory is a high performance single reflection monolithic diamond ATR product offer for spectroscopic sample analysis of samples up to 200C. As with Specacs standard Golden Gate ATR Accessory, this product features a Type IIIA diamond ATR element metal-bonded into a tungsten carbide mount to provide outstanding durability and exceptional chemical resistance. The robust design, strength, and inherent inertness of the Golden Gate diamond ATR element allows this ATR accessory to be used to achieve high-quality spectral data in the analysis of a broad range of materials including those that are abrasive, hard, reactive, or corrosive.
The design of the Heated Golden Gate ATR couples the uniquely high thermal conductivity of diamond with a low thermal mass mount in which high power heaters are placed in close proximity to the diamond element to deliver both rapid and efficient, and gives a high degree of temperature control. This facilitates rapid sample analysis. The Heated Golden Gate ATR is supplied with a temperature controller with digital readout to 1C. Low voltage heaters are used, and thermal fuses are fitted as standard for added safety. The controller complies with European CE regulations.
The Heated Golden Gate ATR is a Benchmark baseplate compatible accessory. ZnSe and KRS-5 lens options are available when ordering the Golden Gate ATR; KRS-5 gives a wider range of Mid-IR studies than ZnSe, but with reduced optical throughput.
Features and Benefits
Heatable to 200C with 1C

readout

Low thermal

mass ATR element

Robust diamond ATR element

Programmable temperature

control

with RS232 compatibility

Complies with CE regulations
Trade Information
5-10 piece Per Month

6-8 Week