Heated Vapor Gas Multi-Sampler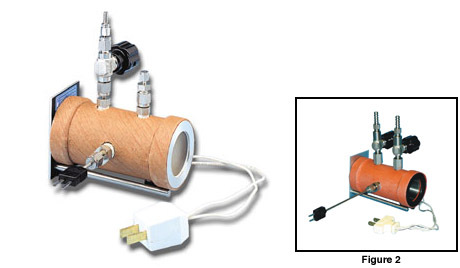 Heated Vapor Gas Multi-Sampler
Product Description
This heated cell can be configured as a gas cell or for vaporizing samples that are normally solids or liquids at room temperature. Configured for gas sampling, the cell incorporates 2 valves, an inlet and an outlet, that enable flowing gas samples through the cell.
In its solid and liquid vaporization configuration, the cell has an outlet needle valve from which a vacuum can be pulled and two (2) sample inlets. One inlet is a needle septa injection port on the top of the cell which is similar to the type used in gas chromatography. There is a second inlet in the form of a side port for inserting solid samples, which also doubles as the thermocouple port. Using the side port eliminates the need to recheck vacuum seals whenever the cell is opened to insert solid samples. The 250w heating jacket extends over the end of the cell so that both the cell body and the optics are heated, and allows operation at temperatures up to 200C. Condensation on the optics is minimized by heating them to the same temperature as the sample chamber. A type J iron constantan thermocouple is provided with plugs which are compatible with the optional temperature controller. The cell body is type 304 stainless steel and an assortment of seals is provided silicon rubber, viton and PTFE.
Cells are factory pretested for vacuum leaks using dummy windows and then new windows are shipped with the cell. The cell comes standard with 47 x 6mm KCl windows. The clear aperture is 39mm. Other window materials are available. An optional high stability temperature controller with RS-232 computer interface and Windows compatible software is available. The temperature controller has ramp and soak cycles that can be programmed either on the keypad or from a PC using the provided software and the RS232 interface.
| | |
| --- | --- |
| Part No. | Description |
| 4327-5546 | 10cm vapor gas multi-sampler with sheathed Iron Constantan 304SS type J thermocouple, 115v, 250w heater system, Swagelok vacuum valve, thermocouple port, injection port heatable to 200 degrees C, heated windows to prevent fogging, KCl windows, 303SS body. |
| 4327-5547 | Same as 4327-5546 with KBr windows. |
| 4327-8032 | 10cm vapor gas multi-sampler with sheathed iron Constantan 304SS type J thermocouple, 220v, 250w heater system, Swagelok vacuum valve, thermocouple port, injection port heatable to 200 degrees C, heated windows to prevent fogging, KCI windows, 303SS body. |
| 4327-8033 | Same as 4327-8032 with KBr windows |
| 43217-5548 | High Stability PID Temperature Controller for 4327-5546, 115v, RS-232 interface and Windows based software for PC control, digital readout, keypad or PC programmable for ramp up, ramp down, set point, and soak (dwell) time as well as for temperature settings, digital readouts of all parameters. |
| 43217-4804 | Same as 43217-5548 but 230v, CE marked. |
| 4328-5162 | Cylindrical Cell Holder for 4327-5546 and 4327-5547 |
| 4327-7405 | 10cm heated gas cell, KCl windows, two Swagelok valves, type J Iron Constantan thermocouple, 115v, 250w heater jacket. Requires temperature controller (Part no. 43217-5548) and cell mount (Part No. 4328-5162) |
| 4327-7406 | Same as 4327-7405 with KBr windows. |
| 4327-8034 | 10cm heated gas cell, KCI windows, two Swagelok valves, type J Iron Constantan thermocouple, 220v, 250w heater jacket. Requires temperature controller (43217-4804) and cell mount (4328-5162). |
| 4327-8035 | Same as 4327-8034 with KBr windows |
Trade Information
5-10 piece Per Month

6-8 Week