HORIZONTAL ELECTROPHORESIS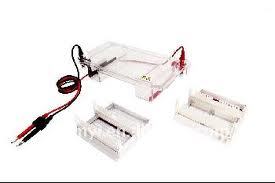 HORIZONTAL ELECTROPHORESIS
Price And Quantity
Piece/Pieces

100.00 - 1000.00 INR
Product Description
Specification

The NAC-SPAT is the smallest unit in the range, designed for low to medium numbers of samples. The small gel size is 48x75 mm, and combs ranging from 3 up to 9 samples. Simply by altering the combs, this compact unit is capable of resolving up to 9 different samples, prepping 1 mL of sample or separating sample bands over a distance of 3 cm. Injection molded construction durable leak-proof environment for complete safety and long life.
Key features

Gel Size: 4875 mm
Sample volume: 3, 5, 9
Buffer Volume: 150 mL
Abundant buffer not only guarantee the cooling effects, but also keep the pH Value stable during the whole experiment process
Unfolded electrodes make the repairing and parts replacement easily and quickly
The transparent top lid effectively prevents the liquid in the cell from volatilizing and avoids the electricity leaking
Auto-switching when lid removal
Recommend matched Power Supply: NAC300C/NAC300
NAC-SPAT Standard Accessory

ADVANTAGES:
THE NAC-SPAT IS THE SMALLEST UNIT IN THE RANGE, DESIGNED FOR LOW TO MEDIUM NUMBERS OF SAMPLES. THE SMALL GEL 48 x 75MM, AND COMBS RANGING FROM 3 UP TO 9 SAMPLES.SIMPLY BY ALTERING THE COMBS, THE COMPACT UNIT IS APPLICABLE OF RESOLVING UP TO 9 DIFFERENT SAMPLE OR SEPARATING SAMPLE BANDS OVER ADISTANCE OF 3CM.INJECTION MOLDED CONSTRUCTION - DURABLE LEAK-PROOF ENVIORNMENT FOR COMPLETE SAFETY AND LONG LIFE.