i-Oxtra NAC4327600 Oxygen Transmission Rate Tester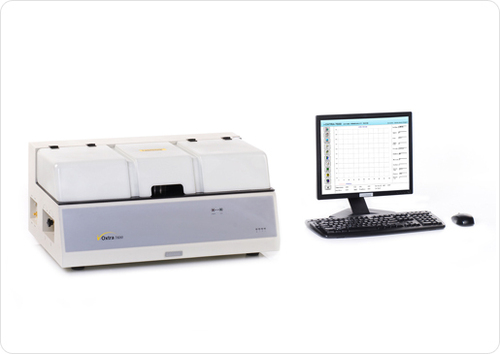 i-Oxtra NAC4327600 Oxygen Transmission Rate Tester
Product Description
i-Oxtra NAC4327600 Oxygen Transmission Rate Tester is based on equal pressure/coulometric method. It can be used to test oxygen transmission rate of various films, sheeting and finished packages.
Technical Specifications
Item
Film Test
Package Test (Optional)
Contact Lens Test (Optional)
Test Specs
Test Range
0.01~1000 cm3/ m2d
0.1~10,000 cm3/ m2d (Optional)
0.0001~10cm3/ pkgd
(Standard)
3x10-11~4.94x10-7 cm3/cm2smmHg
(or 2x10-11~3.7x10-7 cm3/cm2shPa)
Resolution
0.01 cm3/ m2d
0.0001 cm3/ pkgd
2.47x10-11 cm3/cm2smmHg(or 1.85x10-11cm3/cm2shPa)
Test Temperature
15 C~55 C(Optional)
232 C (Standard)
350.5 C (Standard)
5 C~95 C (Optional)
Accuracy
0.1 C
Test Humidity(Optional)
0% RH,
15% RH~90% RH, 100% RH (Optional)
50% RH (Standard)
0%RH, 15% RH~90% RH,
100% RH (Optional)
0% RH,
15% RH~90% RH,
100% RH
Accuracy
1% RH
2% RH
Number of Specimens
1~3 pieces
Test Area
50 cm2
/
0.888 cm2
Specimen Size
108 mm x 108 mm
100% O2Test:
< 120 mm,
Height < 360 mm
No limitation for Air Test
/
Specimen Spec
/
Bottle Test:
Inner Diameter > 8 mm
Outer Diameter < 42 mm; Additional accessory needed for Bag or Box Test
/
Environment Monitoring Specs (Optional)
Voltage Monitoring Range
AC 0~250 V, with 0.5% accuracy
Current Monitoring Range
0~15 A, with 0.5% accuracy
Energy Analysis Accuracy
0.5%
Environmental Temperature Monitoring Range
-10 C~55 C, with 0.1 C accuracy
Environmental Humidity
Monitoring Range
0~100% RH, with 2% RH accuracy
Other Specs
Test Gas
Oxygen, air, high purity nitrogen with small amount of other gases (outside of supply scope)
Carrier Gas
High purity nitrogen (no less than 99.999%)
Port Size
1/8 inch Copper Tubing
Instrument Dimension
670 mm (L) x 410 mm (W) x 310 mm (H)
Power Supply
AC (85~264) V (47~63) Hz
Net Weight
50 kg
Configurations
Standard

Mainframe (including Wireless Data Interface), Professional Software, LCD Monitor, Keyboard, Mouse

Optional

Environment Monitoring Sensors (including voltage, current, humidity, and temperature sensors), Temperature Controller, Humidity Controller, Sealing Accessories for Package Test, Hood for Package Test, Accessories for Contact Lens Test, Pressure Reducing Valve for Nitrogen, Pressure Reducing Valve for Oxygen, Printer (Compatible with PCL3)

Online Data Management System for Packaging Testing

Wireless Data Transfer Module, High Gain Antenna
Note:
1.Gas supply ports of instrument are 1/8 inch copper tubing and 4 mm PU tubing;
2.Customers will need to provide gas supply;
3.The given temperature and humidity control ranges are independently valid.
Trade Information
5-10 piece Per Month

6-8 Week