Inverted Metallurgical Microscope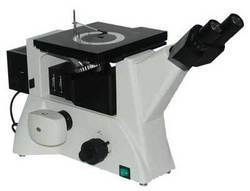 Inverted Metallurgical Microscope
Price And Quantity
Piece/Pieces

100 Onwards INR
Product Specifications
For Lab, Institution and College Purpose

Black and White
Manual

Metallurgical Microscope
Product Description
Inverted Metallurgical Microscope
We are enlisted amongst the dependable Inverted Metallurgical Microscopes Suppliers from India. The Trinocular Inverted Metallurgical Microscope IMM 600-610 is widely demanded in the market as no alternative is available in terms of quality and performance. Additionally, customers are eased with the availability of the Binocular Inverted Metallurgical Microscope loaded with all the advanced features.
Observation System
The gemel mode bonocular is include 45 degree. The operator cervix and shoulder are released from tired in period of time keeping bow or head-u.p. The eyepiece field of view number is 22mm and eyepatch can be added.
Machanical Stage
The circular chromeplate substage is located in the center of machanical stage so that enable rotate the specimen in the polarization obeservation. The abnormity obeservation window is suit for different size specimen.
Illumination System
Intehrated illumination can make up the difference of halogens by adjusting the spacial position. The illumination mode is "Kohler illumination" and the adjustment of field and aperture diaphragm is achieved by turning the control plate, the adjustment mode is smooth and comfort. Fully taken into account the cooling effect of illumination system so that the surface temprature of lamp house is lower, the operation is safer. Simpler and quicker way to replace the bulb without any tools.
Dark Field Observation
Equip high quality bright and dark field obejectives and dark field illumination device. Avoid the stray light of illumination system and improve the image quality in the dark field.
Photography Unit
The photographic obeservation output is seting up on the back of main body frame, so that the accessories of camera don't causa interference to eyepiece obeservation. Microphotography in 100% light flux, suits for low illuminance microphotography.
Eye Piece :10X Wide - Feild plan eyepiece. Field of view Number 22mm
Objectives: (Infinity and long working distance plan achromatic objective) Type Magnification Number aperture Working Distance
(mm) Thickness of cover
(mm) Remark
Bright feild Objective 10 X 0.25 20.2 0 IMM-600
20 X 0.40 8.8 0
50 X 0.70 36.8 0
100 X (Dry) 0.85 0.40 0
Dark Field Objective 10 X 0.25 9.3 0 IMM-610
20 X 0.40 7.2 0
50 X 0.70 2.50 0
80 X 0.80 0.80 0
Eyepiece Tube: Inclination of 45o and interpupillary distance is 53-75 mm
Focusing System: Coaxial coarse/fine focus, with tension adjustable and up stop minimum division of fine focusing 2m
Nose Piece: Quintuple ( Backward ball bearing inner loacting ) for bright field
Quintuple ( Backward ball bearing inner loacting ) for bright & dark field
Stage: Mechanical stage with circular rotatable stage, Moving range : 30mm X 30mm
Illumination: 12V30W halogen, brightness enable control (For model IMM-600)
12V50W halogen, brightness enable control (For model IMM-610)
Filter: Frosted glass & blue, Green Filter