NAC516 Dissolved Oxygen Meter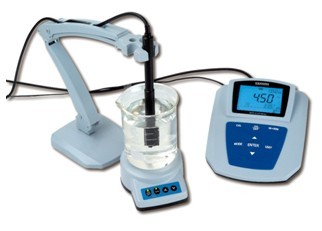 NAC516 Dissolved Oxygen Meter
Price And Quantity
Product Specifications
880 Grams (g)

Blue and Gray
Digital Only

DO0 to 40.00mg/L(ppm) 0 to 200.0%
Product Description
Measuring Parameters:
Dissolved Oxygenand temperature

Specifications:
Range DO0 to 40.00mg/L(ppm)
0 to 200.0%
Temp: 0 to 45
Accuracy DO+0.10 mg/L
Temp 0.4
Other Parameters:
Automatic Temperature Compensation:
0 to 45
Automatic Salinity Compensation:
0 to 45ppt
Automatic Air Pressure Compensation:
80 to 105 Pa
Storage Data 600 groups;
Communication Connector RS-232;
Power DC9V/300mA;
Size & Weight 160x190, 70mm/880g
What's included:
DO500 dissolved oxygen electrode
Model 901 intelligent stirrer
Model 602 flexible electrode holder
RS-232 communication software and cable
DO502 DO electrode inner solution

Features and Applications:

The worthy lab dissolved oxygen meter for its good performance and low cost.
New type dissolved oxygen electrode has function of salinity measurement, can automatic achieve salinity compensation and temperature compensation; Meter inside with air pressure sensor, can automatic achieve air pressure compensation.
Polarographic type dissolved oxygen electrode, short polarization time, fast response and accurate measurement.
Convenient used dissolved oxygen electrode calibration cover and combined type diaphragm cap.
Meter meets with the requirement of international GLP standards. It features up to automatic calibration, automatic temperature compensation, storage data, clock display, time measurement, RS232 output, functions setting and self-diagnose information etc.
It adopts digital filter and step slipping technology to improve meter's response speed and repeatability.
Dustproof and waterproof meter meets IP54 standards.