NACMTT - Carbon14-Tritium Furnaces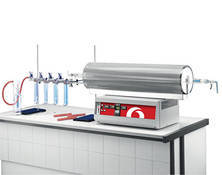 NACMTT - Carbon14-Tritium Furnaces
Product Description
This apparatus uses catalyst assisted combustion techniques to give a clean and precise approach to extracting carbon-14 & organically bound tritium or fixed tritium, eg tritium contained in concretes, steels and graphites, as well as free water.

A catalyst is used to ensure complete combustion of all thermal decomposition products. These are captured for liquid scintillation assay. This technique gives greater confidence of complete combustion than wet oxidation techniques and avoids coloured contamination of scintillation media by botanical samples.

Computer control enables remote operation of multiple or individual units even in hazardous areas.
Standard Features
2-zone tube furnace configured for capture by combustion of organically bound carbon-14 and tritium
Large sample capacity up to 20 ml provides more accurate determinations
Originally developed in partnership with AEA Technology
2 quartz glass work tube assemblies
6 combustion boats
Three sets of glass gas bubblers (12 in total)
All connectors including the molecular sieve waste aerosol trap
Unique catalyst optimisation manifold
6 copper wire catalysts
3508P1 20 segment programmable temperature control for sample specific combustion protocols
Over-temperature protection of both heated zones
RS485 communications & control
Eurotherm iTools allows software storage & recall of specific sample protocols
Free from plastic or rubber components into which tritium can migrate
A comprehensive process instruction manual
Options (specify these at time of order)
Additional sets of bubblers (sets of 4)
Additional sets of combustion boats (sets of 6)
Additional work tubes
Additional copper catalyst (sets of 3)
Control Options
3508 Programmable Controllers
Content may be subject to modifications or corrections
Trade Information
5-10 piece Per Month

6-8 Week