NACTVS - Vertical Split 3 Zone Tube Furnaces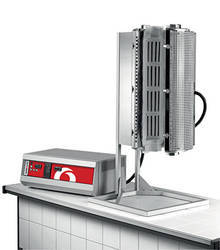 NACTVS - Vertical Split 3 Zone Tube Furnaces
Product Description
The NACTVS tube furnaces use free radiating wire elements embedded within the insulation of the furnace body. The benefit of this design is its flexibility; with the use of tube adapters the same furnace can be used with a variety of tube diameters.

These furnaces comprise a furnace body which is hinged and split into two halves along its length. This makes exchange of work tubes easier and also enables the furnace to be used with reactors or work tubes where end flanges would make insertion into a non-split furnace difficult. This design is particularly suitable for incorporation into extension test and creep test apparatus.

This range of tube furnaces does not include an integral work tube and one must be selected as an additional item. The work tube length is dependent on the application eg for use with modified atmosphere or vacuum.

The use of a separate work tube has the advantage of protecting the heating elements from damage or contamination. The near-hinge format is standard, an alternative option that can be specified at the time of purchase is the far-hinge format, where the pivot of hinges is further from the centre line of the furnace to enable a wider opening action. A horizontal equivalent of the NACTVS range, the NACHZS range is available.
Standard Features
1200C maximum operating temperature
Accepts work tubes with outer diameters up to 110 mm
Heated lengths of 600 mm or 900 mm
Furnace splits into two halves to accommodate work tubes or samples fixed into a test rig
Wire elements in high quality vacuum formed insulation ensure fast heat up, excellent temperature uniformity and short cool down times
Supplied in 'near-hinge' configuration complete with stand
Vertical furnace with a separate control module on a 2 metre conduit (for vertical use only)
Carbolite 301 controller, with single ramp to set-point & process timer
End zone control is via back to back thermocouples
End zones of 150 mm
Options (specify these at time of order)
Three equal length zones
Insulation plugs, gas tight end seals and vacuum connections available
'Far-hinge' configuration providing wider opening of furnace body
Wide choice of tube diameters and materials is available: eg quartz, ceramic, metal
Over-temperature protection (recommended to protect valuable contents & for unattended operation)
Control module on longer 6 metre conduit
A range of sophisticated digital controllers, multi-segment programmers and data loggers is available. These can be fitted with RS232, RS485 or Ethernet communications
Control Options
301 Standard Controllers
3508 Programmable Controllers
Content may be subject to modifications or corrections
Trade Information
5-10 piece Per Month

6-8 Week