NMR Solvents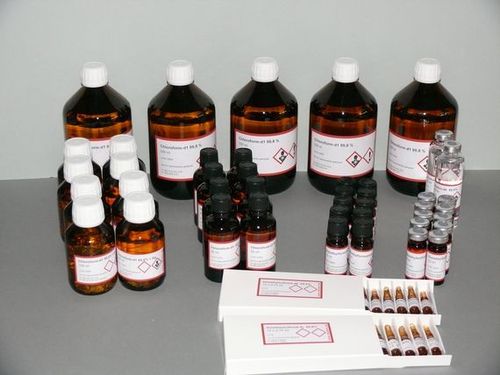 NMR Solvents
Product Description
All products are decanted by ourselves and afterwards analyzed on our in-house 500 MHz spectrometer. The water content (H2O + D2O) is determined with the coulometric Karl-Fischer-titration.
Individual fillings as well as special requests are possible on demand. We are pleased to provide an offer on your request.
We offer:
a wide range of solvents with different isotopic enrichment

excellent qualities at competitive prices

almost everything can be supplied ex stock

Ampoules from 0,2 ml to 10 ml

Septum bottles from 5 ml to 10 ml (25 ml and 50 ml on request)

Screw cap bottles from 5 ml to 1000 ml
Further deuterated compositions and stabile Isotopes
For products that are not produced so far we are pleased to offer custom synthesis capabilities.
Offers at present:
| | | | |
| --- | --- | --- | --- |
| Art.Nr. | Product | % | Quantity |
| 51502-5g | Ammoniumchloride 15N | 99 Atom % 15N | 5g |
| 50302-1g | Glucose 13C6 | 99 Atom % 13C | 1g |
| 50102-1g | Glucose 1-13C | 99 Atom % 13C | 1g |
| 23501-1g | Imidazol-d14 | 98 Atom % | 1g |
| 37302-10g | Methyliodide 13C | 99 Atom % | 10g |
| 37302-60g | Methyliodide 13C | 99 Atom % | 60g |
| 59702-1g | Methyl-13C-d3 alcohol-d | 99 Atom % | 1g |
| 59702-5g | Methyl-13C-d3 alcohol-d | 99 Atom % | 5g |
| 49802-1g | Potassiumcyanide 13C | 99 Atom % | 1g |
| 23401-1g | TRIS (hydroxymethyl)methylamine-d11 | 98 Atom % | 1g |
| 23401-5g | TRIS (hydroxymethyl)methylamine-d11 | 98 Atom % | 5g |
Trade Information
5-10 piece Per Month

6-8 Week