PCR GENEMETE SERIES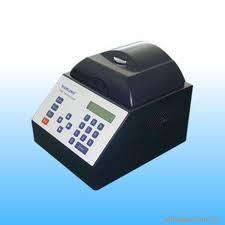 PCR GENEMETE SERIES
Product Description
Features:
The most advanced semiconductor technology (peltier-based)
Convenient and flexible module replacement mode.
Large size and super-high-definition LCD screen
Intuitive, friendly user interface makes programming easier and faster.
Memory function in case of power-down
Low noise, low energy consumption, long application life.
Solemn, elegant appearance, innovative modeling.
Unique rotating stall heat-regulating function
Optimal design for human body makes operation more convenient
Heat lid could be stopped at any angle
Handle-module, makes module replacement more secure and convenient.
Parameter:
Capacity: 96Holes, 0.2ml + 77Holes, 0.5ml
Temp range: 0oC~99oC(RT-30oC)
Max Heating rate: 4.0oC/s
Max Cooling rate: 3.5oC/s
Uniformity: +0.4oC(95oC),0.2oC(20oC~75oC)
Accuracy: 0.2oC
Gradient temp range: 30~99oC
Gradient spread: 2~30oC
Heating lid temp: 70~110oC
Temp control: block,tube,calculated
Stored program No.: 200
Max. No. of Cycle: 99
Display: 5.7inch,320x240pels LCD
Communication: USB2.0 RS232
Trade Information
5-10 piece Per Month

6-8 Week