Pneumatic Panel Sprayers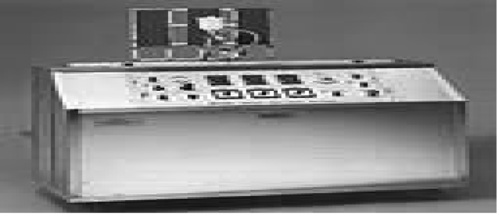 Pneumatic Panel Sprayers
Product Description
Pneumatic Panel Sprayers
Features
A wide choice of options is available from the compact, single gun 4500N to the multi-panel, twin gun 4800N which has provision for electrostatic spraying, both HVLP and Bell.
Options
1/ Digital traverse time display (all models).

The traverse timer will provide precise time of a single traverse stroke or a single cycle.The unit is air purged and powered by 1.5V batteries.

2/ Air Drying Unit (all models). Provides a controlled filtered airm flow onto the panels to reduce drying time, and can increase throughput of panels by 60%.

3/ Vacuum Panel Holder (all models).

For non-metallic test panels. Manifold coupling allows rapid changeover.

4/ Dwell timer (all models).

Provides delay between each spray pass. Options from 10 seconds to 10 minutes.

5/ Electrostatic spraying (4800N). Mounting supplied for; air pressure regulator/ filter, connecting panel, pneumatic remote control, gun mounting and panel holder.

6/ Wedge Control 3 or 4 Step available (all models). This control provides test samples suitable for hiding, sag & related tests.
Rapidly becoming the industry standard in many areas, our Automatic Panel Sprayers have been developed with the co-operation of end users to ensure the product meets the exacting quality standards of the industries using them.
The key features in the production of test panels are: repeatability, uniformity and continuity, matching real life production conditions.
Strict control must be maintained on critical factors such as atomisation, flow, traverse speed, lift, gun position and drying time.
Controlled, reproducible samples can be achieved for colour matching, gloss, adhesion, opacity etc.
The units are pneumatically operated and are intrinsically safe when used with flammable solvent based paint systems.
General Features

4500N

4700N

4800N

Complies with ASTM D823/A

yes

yes

yes

Fully pneumatic

yes

yes

yes

Manual spray, lift, traverse

yes

yes

yes

Variable traverse speed control

yes

yes

yes

Adjustable spray distance

yes

yes

yes

Castors for each movement

yes

yes

yes

Coats counter

1

1

2

Passes counter

no

1

1

Flash off timer

1

2

3

Digital traverse timer

no

no

no

Spray gun facility

1

2

2

Electrostatic facility

no

no

no

Panel lift height adjustment

40/50mm

40/50mm

40/50/70mm

Number of panels (100x150mm)

4

SKU
Name



4500N

Small Automatic Panel Sprayer - Single Gun Facility, 1 Flash Off Timer, 1 Coating Counter




4700N

Medium Automatic Panel Sprayer - Twin Gun Facility, 2 Flash Off Timers, 1 Coating Counter




4800N

Large Automatic Panel Sprayer - Twin Gun Facility, 3 Flash Off Timers, 2 Coating Counters, Adjustable Spray Width

8

15 Single gun
12 Twin gun
Trade Information
5-10 piece Per Month

6-8 Week