Precision Thickness Film Maker & Thin Film Making Kits For Polymers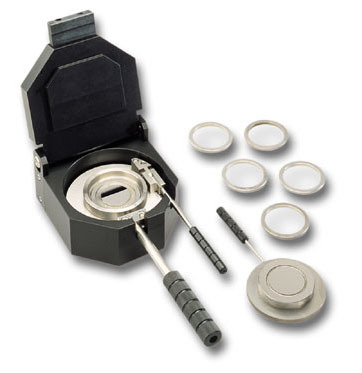 Precision Thickness Film Maker & Thin Film Making Kits For Polymers
Price And Quantity
Piece/Pieces

100.00 - 1000.00 INR
Product Description
The ICL Precision Thickness Film Maker is available with several film making kits and as a stand alone accessory for use with other lab presses. It is designed to hot press polymer films to precise thicknesses of 15, 25, 50, 1432, 250 & 5432 microns. It can be used in conjunction with either ICLs 6" x 6" thermostat controlled heated platens (43212-4612) or the temperature controlled, water cooled heated platens with digital temperature controller (43212-6664). The Precision Thickness Film Maker and the heated platens can be combined as complete kits with the 20 ton Press, the 20 ton Air and the 12 ton Mini 'C' Column press.
The Precision Thickness Film Maker produces thin films which are highly reproducible from sample to sample using hardened steel spacers to separate the two (2) mirror finish optically polished surfaces of the special anvils. The entire assembly and the sample are placed between heated platens, heated to close to the softening point and pressed with a hydraulic press to form the film. By using matte finished foil inserts between the anvils, interference fringes can be avoided. Excess sample runs off into a trough to prevent interference with the formation of the film. A water cooled chamber is provided into which the entire assembly with the film can be inserted for cooling after the film has been pressed.
For those making films from soluble polymers, we urge you to take a look at theRoto-Film.
| | |
| --- | --- |
| Part No. | Description |
| 43212-4608 | Precision Thickness Film Maker with 15, 25, 50, 1432, 250 & 5432 micron spacers, cooling jacket and foil inserts |
| 43212-4611 | Replacement foil discs - pk/2432. |
| 43209-610 | Magnetic Film Holder for mounting films in a spectrophotometer |
| 43212-4609 | Replacement Polished Top Platen |
| 43212-4610 | Replacement Polished Bottom Platen |
| 43212-8486 | Mirror Finished Polished 4" diameter 316 SS plates for making polymer films, threaded for optional handle with drilled thermocouple port, set of 2 |
| 43212-8591 | Optional Handles Pair (2) for 43212-8486 |
| 43212-9104 | Pair (2) of matte finish finely lapped 4" diameter 316SS Platens |
| 43212-8803 | PTFE 4" Diameter Platens for quick release of thin films made with heated platens; set of 2 with matte finish for diminished fringing. 3/8" thick. |
| 43212-8806 | PTFE 30mm Diameter Platens for quick release of thin films made with heated platens; pack of 2 with matte finish for diminished fringing. 1/8" thick. |
| 43212-6664 | Heated Platens, 4'dia. water cooled aluminum with digital PID temperature controller |
| 43212-9106 | Heated platens (43212-6664) with matte finish 316SS film pressing platens (43212-9104) with handles (43212-8591) and temperature controller |
| 43212-6631 | Film Maker Kit, with film maker (43212-4608) 20 ton Press (43212-6306), digital temperature controller and water cooled 4'dia. aluminum heated platens (43212-6664) |
| 43212-6681 | Auto Film Maker Kit, with film maker (43212-4608) 20 ton AIR-EZ press (43212-6486), digital temperature controller and water cooled 4' dia. aluminum heated platens (43212-6664) |
| 43212-4656 | Film Maker Kit, with film maker (43212-4608) 12 ton column press Model CHFM12 with thermostat controlled heated platens (43212-6952) |