Sealed Liquid Cells - Model NAC-212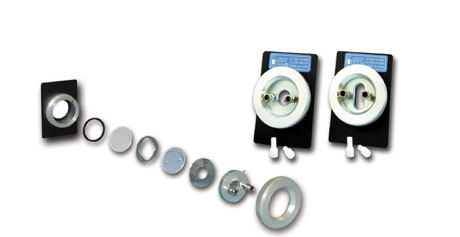 Sealed Liquid Cells - Model NAC-212
Product Description
We are a group of professionals engaged in exporting and supplying an exclusive range of Sealed Liquid Cells. The cells are ideal for quantitative analysis where an accurate reproducible cell thickness is required. In order to manufacture high quality Sealed Liquid Cells, our vendors employ advanced machines and utilize quality tested materials. In addition, we can also offer these cells in qualitative packaging to ensure safe delivery at clients end.
Features:
Compact design
Easy to use
Less maintenance
Further Details:

The NAC-212 was designed for precise analysis of liquids. The cell performs identically to NATIONAL's NAC-213 and NAC-214, but requires 32mm x 3mm windows instead of the usual rectangular or hexagonal shaped windows.
These cells come assembled with a leak-proof seal which is obtained by mercury amalgamating the luer lok syringe/pin plate to both the lead gasket and the window, thereby permitting the entire sealed window assembly to be removed with the ease normally associated with a demountable cell. Additional sealed sandwich cells can be used with the same cell mount if a variety of pathlengths are required. Demountable NAC-212 cells are also available.
The NAC-212 is available in dispersive and FTIR configurations. The price of the cell in the sealed cell configuration includes both the mount and the sandwich cell that fits in the mount. Pathlengths can be nominal or calibrated to 4 decimal places (eg. 1.0152mm) and cell pathlengths can be matched within +3% for interchangability. NATIONAL also offers an infared cell reconditioning service and a calibration service for all spectrophotomer cells.
Rectangular Aperture - Dispersive

NaCl

4325A-2899W

KCl

4325B-2906W

KBr

4325C-2913W

CaF2

432D-2920W

BaF2

4325E-2927W

CSI

4325F-2941W

KRS-5

4325G-2934W

INFRASIL QTZ.

4325H-4136W

CLEARTRAN/ZnS

4325I-2948W

ZnSe

4325J-2955W

AgCl

4325K-2962W

Circular Aperture - FTIR

NaCl

4325A-2969W

KCl

4325B-2976W

KBr

4325C-2986W

CaF2

4325D-2993W

BaF2

4325E-3000W

CSI

4325F-3014W

KRS-5

4325G-3007W

INFRASIL QTZ.

4325H-4143W

CLEARTRAN/ZnS

4325I-3021W

ZnSe

4325J-3028W

AgCl

4325K-3034W
| | |
| --- | --- |
| Part No. | Description |
| 4326-4122 | NAC-212 Holder without Pin Plate, Dispersive |
| 4326-4124 | NAC-212 Holder without Pin Plate, FTIR |
| 4326-4121 | NAC-212 Luer Pin Plate, Dispersive |
| 4326-4123 | NAC-212 Syringe Pin Plate, FTIR |
| 4321-XXXX | 32mm Spacers & Gaskets |
| 4322-XXXX | Replacement (32mm x 3mm) Crystals |
| 4324-XXXX | NAC-212/Spectra-Tech Sandwich Cell |
| 4321-1414 | PTFE Plugs (each) |
| 4321-4293 | 32mm O-Rings (1 pk/12) |
Trade Information
5-10 piece Per Month

6-8 Week