SOLAR Master UV Cabinets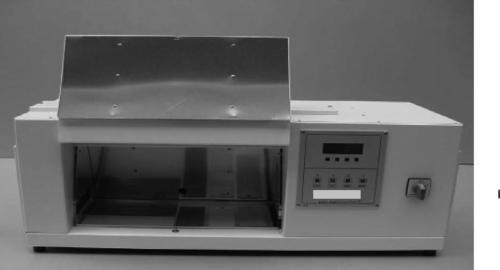 SOLAR Master UV Cabinets
Product Description
SOLAR Master UV Cabinets
Features
Light source air cooled Xenon lamp - lifetime 1500 hours

Irradiance control displayed and adjusted automatically compensating for lamp and filter ageing

Radiant heat continuously monitored by integrated Black Standard Thermometer ( E models also control)

Programmable timer for test times to 999 hours

Flooding system available for simulation of moisture and rain in conjunction with UV
The New SOLARmaster range of UV Weathering Test Cabinets incorporate the latest in filtered Xenon light technology to ensure consistency and repeatability in the simulation of realistic natural outdoor weathering conditions.
The cabinets, comprising of four different models, allow complete configurational flexibility in order to ensure that the environmental conditions specified in ASTM, ISO, SAE, CEN, DIN, BS, UNI and all other international test standards are precisely met.
The larger models of the SOLAR master cabinets, the 3000 series, have been specifically designed for the testing of 3 dimensional objects and finished manufactured products. This facility, which is of increasing demand, is generally available only in very expensive Xenon test systems.
Trade Information
5-10 piece Per Month

6-8 Week