SPE VACUUM MANIFOLD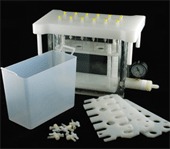 SPE VACUUM MANIFOLD
Product Description
Vacuum manifolds for SPE sample preparation, filtration, and elusion are available in
12-, 16-, and 24-port configurations. These manifolds permit consistent extraction and
filtration results. Multiple sample processing with these manifolds simplifies procedures
and saves time. The manifolds consist of a clear glass chamber and lid to which a vacuum
is applied to draw a sample through an SPE column, cartridge, or disk.
Adjustable racks placed in the glass vacuum chamber will accommodate a variety of
sample collection vessels, including test tubes, autosampler vials, volumetric flasks, and
Erlenmeyer flasks. Eluants are deposited directly into the collection vessel of choice via
polypropylene, optional stainless steel, or Ptfe needles. Drying attachments for the
12- and 24-port manifolds will direct a flow of air or nitrogen into the collection vessels
to dry eluants prior to further analysis. Drying attachments can also be connected, via
adapters, to SPE columns or cartridges in order to dry the column or cartridge prior
to final elusion. Optional disposable solvent resistant polypropylene containers are
available for the twelve port manifolds. These waste containers greatly simplify sample
preparation, solvent disposal, and clean-up.
12 Position Vacuum Manifold Set-Complete
2.PYB1012.0001
Includes:
1 glass chamber
1 cover, gasket, & 12 stopcocks
1 vacuum gauge & valve assembly
12 polypropylene needles
Collection rack shelves, legs, clips, & posts
6 plates
1 waste container
Trade Information
5-10 piece Per Month

6-8 Week