SPEC UV-1800 Spectrophotometer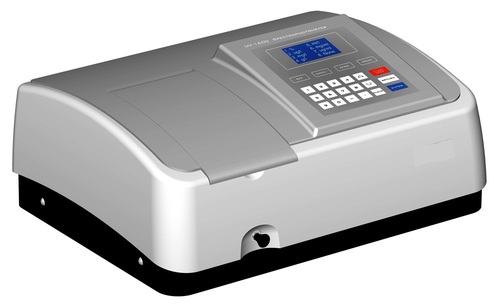 SPEC UV-1800 Spectrophotometer
Price And Quantity
Product Specifications
470 Millimeter (mm)

14 Kilograms (kg)
187 Millimeter (mm)

White and Black
ABS Plastic

110-200 Volt (V)
Product Description
SPEC UV-1800
UV-1800( PC ) UV/VIS Spectrophotometer

16/18 Series are simple-to-use instruments with advanced performance; its stray
light is only 0.05%T. The local stand-alone software provides functions of
Photometry, Quantitative Test, Kinetics and System Utilities functions.
Features
1 Large LCD screen (128*64 Dots).
2 System can also save the test results, total 200 groups of data 200 standard
curves can be saved in the RAM. Convenient for check and reload.
3 Data can be restored after a sudden power cut.
4 Auto setting wavelength.
5 Tungsten lamp & Deuterium lamp can be turned on/off individually to extend lifetime.
6 The optional application software M. Wave Professional provides complete control
of the spectrophotometer from a computer through the Built-in USB port. It can expand
to the following functions: Quantitative, Kinetics, Wavelength Scan, Multi-wavelength
& DNA/Protein Test.
7 Pre-aligned design makes it convenient to change lamps.
8 Large sample compartment, it can accommodate 5-100mm path length cuvettes with
optional holders. A variety of optional accessories are available.
SPECIFICATIONS
| | |
| --- | --- |
| Model | UV-1800 / UV-1800PC |
| Wavelength Range | 190-1100nm |
| Spectral Bandwidth | 2nm |
| Optical System | Single Beam , Grating 1200 lines/mm |
| Wavelength Accuracy | 0.5nm |
| Photometric Accuracy | 0.5%T or 0.004A@1A |
| Photometric Range | 0-200%T , -0.3 - 3A ,0-9999Conc |
| Stray Light | 0.05%T220 360nm |
| Stability | 0.001A/h 500nm |
| Display | Graphic LCD (128*64 dots) |
| Keyboard | 22 Membrane keypad |
| Standard Cell Holder | Standard 10mm pathlength cuvette |
| Sample Compartment | 4-position 10mm cell changer |
| Light Source | Tungsten Deuterium lamp |
| Output | USB Port Parallel Port (Printer) |
| Power Requirement | AC 110/220V 50/60Hz |
| Dimensions(W*D*H) | 470*373*187mm |
| Weight | 14kg |