Spectrofluorophotometer RF-6000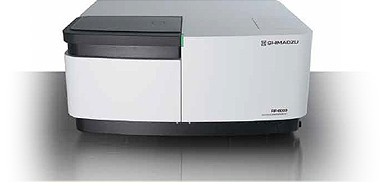 Spectrofluorophotometer RF-6000
Product Description
Spectrofluorophotometer RF-6000

Wide Variety of Spectral Techniques
Enhanced sensitivity and dynamic range enable fluorescence as well as bioluminescence, chemiluminescence, and electro-luminescence measurements.
High-speed 3D scanning enables rapid acquisition of 3D spectra.
Spectral-Corrected Excitation and Emission spectra can be scanned.
Fluorescence quantum yield and Fluorescence quantum efficiency measurements are available.
High Sensitivity, High Stability and High Speed
Highest level SNR in its class: 1,000 or more (RMS) /350 or more (P-P)
High-speed scanning of 60,000 nm/min minimizes scan time.
2,000 hour long life Xe lamp.
Extended range PMT offers scan wavelength range to 900nm.
Excellent Usability
Easy-to-use LabSolutions RF software simplifies analysis.
Validation routines included.
Status bar in LabSolutions RF indicates lamp and accessory status.
Large sample compartment for all analytical needs.
High-sensitivity measurements can be performed with S/N ratios of 1,000:1 (RMS) or 350:1 (P-P).
Improved lower limit of quantitation. Measures concentrations up to 1 x 10-13 mol/L (fluorescein).

A redesigned optical system and signal processing system achieve the highest S/N ratio levels in its class.
Even extremely dilute samples can be measured accurately.

The RF-6000 can measure uorescence spectra from uorescein concentrations as low as 1 x 10 -13 mol/L. Furthermore, due to an auto-gain control function that ensures measurements are performed using optimal measurement parameters, the system can perform accurate and highly quantitative measurements over a wide six-order dynamic range, from 10-13 to 10-7 mol/L.
Trade Information
5-10 piece Per Month

6-8 Week