Tablet Harness Tester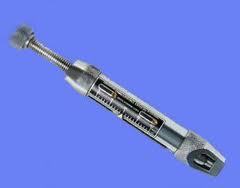 Tablet Harness Tester
Product Description
Tablet Harness Tester

Campbell Electronics offer handy and compact Hardness Tester Model MHT-20, which has been designed to be used in various applications in QC, QA, R&D, Tableting, Production and In-Process. The tester provides quick readings of Hardness of Tablets and measures hardness in Kg per sq. cm. It is made using brass parts, which are heavily plated with chromium has a scale of 0-20 kg. per sq. cm. with each division.
The model is available in 19 mm slot (3-19 mm) and 40 mm slot (20-40 mm)
The key operating Instructions for the tester are:
Hold the Tablet between the jaw and nozzle in edgewise position.
Adjust the Scale (by sliding), so that the zero on the Scale coincides with the pointer.
Turn the screw knob slowly till the tablet brakes.
The pressure indicated on the dial is in Kilogram per sq. cm.
Never keep the spring under Tension, when not in use.
Trade Information
5-10 piece Per Month

6-8 Week