Wolff-Wilborn Pencil Tester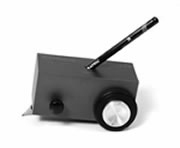 Wolff-Wilborn Pencil Tester
Product Description
Wolff-Wilborn Pencil Tester

The purpose of scratch hardness tests is to determine the resistance of coating materials or lacquers to scratch effects on the surface.
In the Wolff-Wilborn Test, twenty pencils in the range of grades from 9B to 9H ( ISO 15184 / BS 3900 - E19 ) are used, each being moved over the surface under a fixed pressure and angle to the surface. The degree of hardness of the pencil which damages the surface is taken as a measurement of scratch hardness e.g. '3H' hardness.
Complies with ASTM D3363, ECCA-T4-1, BS 3900-E19, ISO 15184.
Trade Information
5-10 piece Per Month

6-8 Week